Amazing Food in Narita (Part 2): Kikuya—Exquisite Japanese Cuisine at a Long-Established Restaurant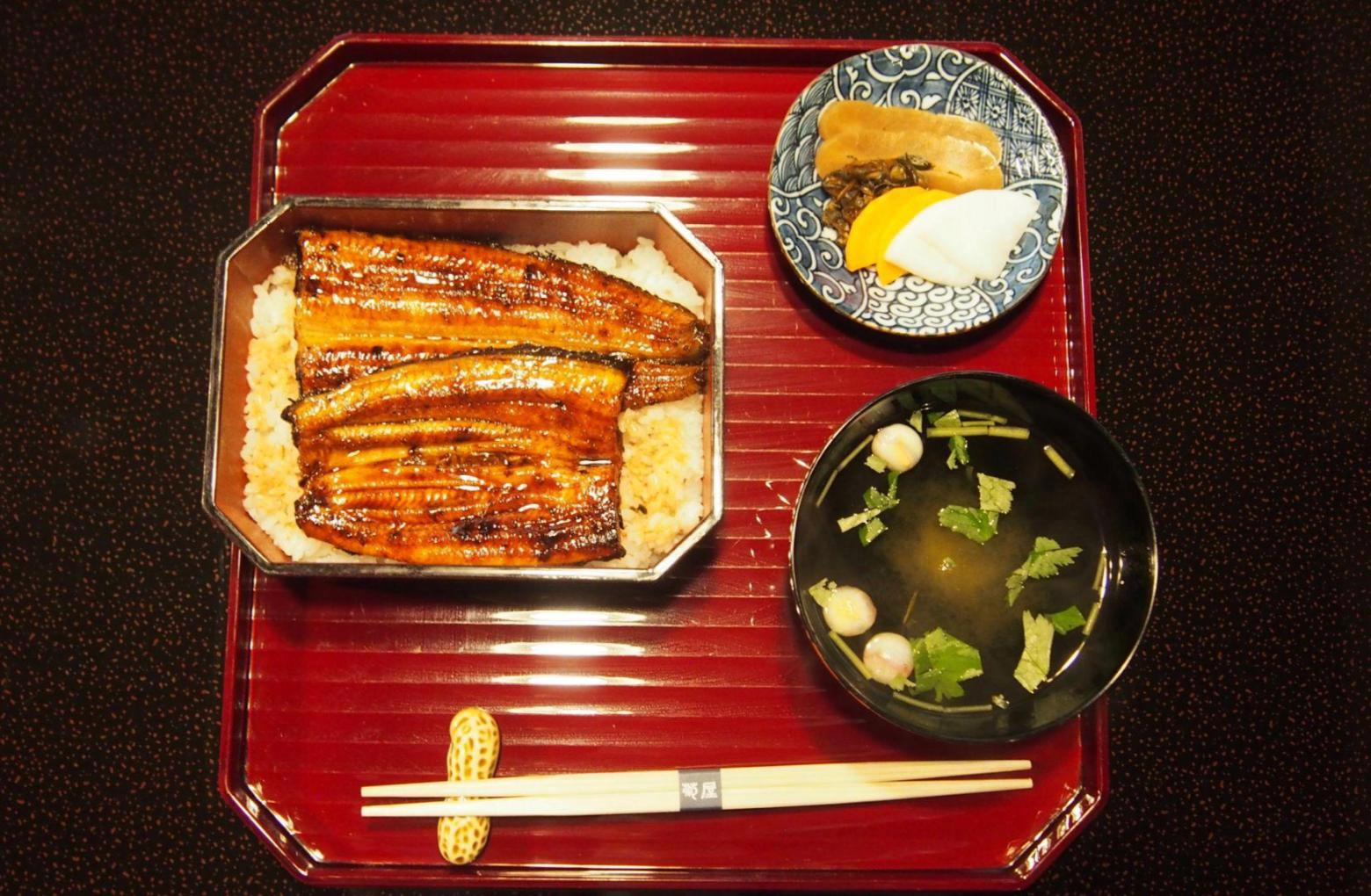 When you ask Narita locals for their recommended unagi (Japanese eel) restaurants, they'll probably say "Kikuya." When I visited there, I discovered so many amazing things other than just eels. In this article, I would like to share with you the charm of Kikuya in full detail!
Narita Airport is located in Narita City, Chiba Prefecture. Narita is famous for eels, and there are many eel restaurants along the sando (a road approaching a temple) leading to a temple called Naritasan Shinshoji (hereinafter "Shinshoji"), which is the most popular tourist destinations in Narita. For part 2 of the "Amazing Food in Narita" series, I visited Kikuya. It is a famous restaurant loved not only by the locals, but also by tourists and airline staff. As I was walking along the sando toward Shinshoji, the fragrant smell of grilled eels drifted into my nose. The big signboard and an eye-catching red lantern—it's Kikuya! When I went inside, Kikuya's company president Kotaro Ishibashi welcomed us.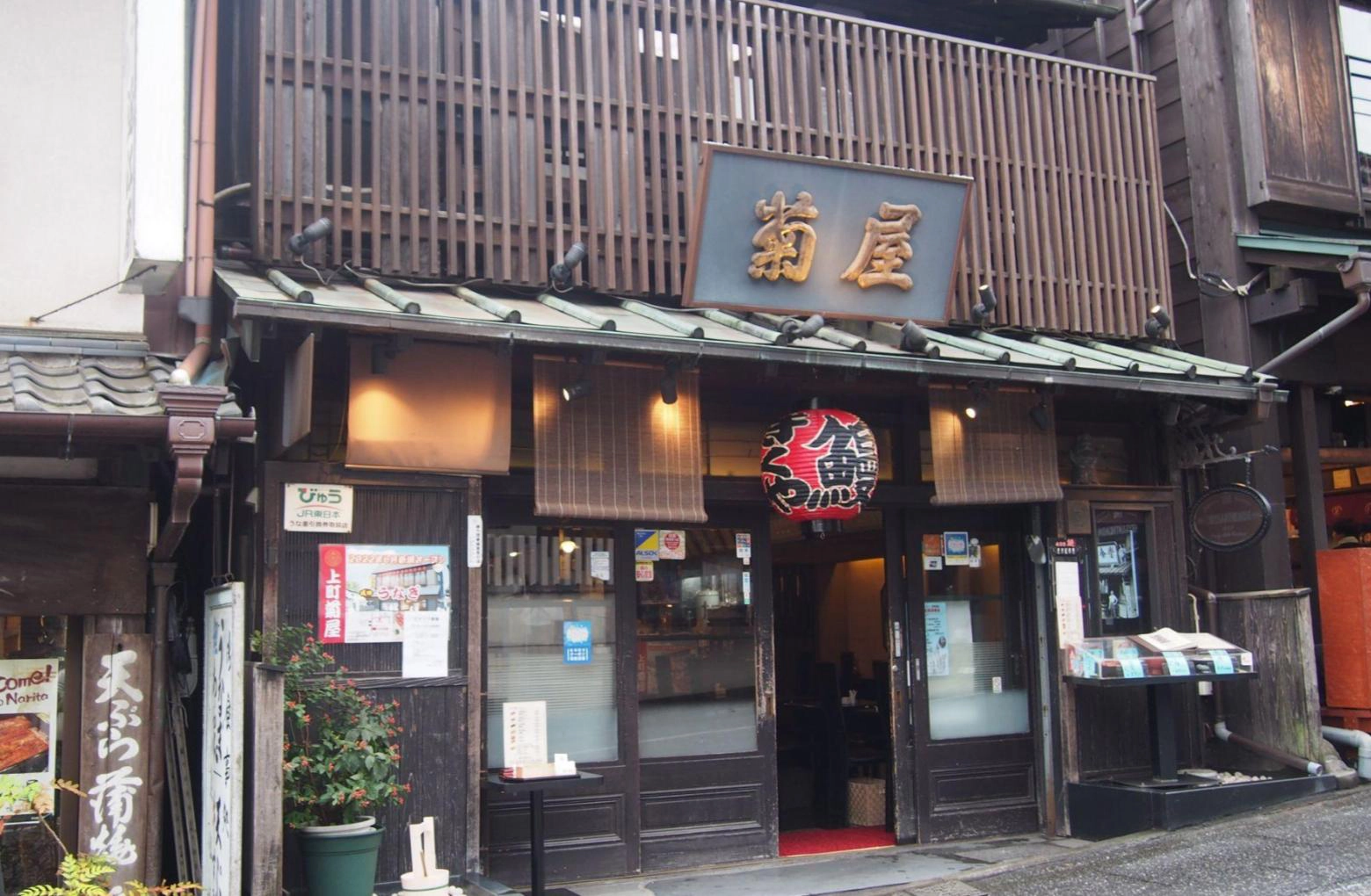 The exterior of the restaurant. Some parts of the building have not changed since the Edo period.
According to Mr. Ishibashi, the most interesting thing about Kikuya is its history. It was founded during the Edo period. The founder's family has been in the restaurant business for nearly 300 years in the temple town of Shinshoji for generations. We would like you to definitely watch the video played on the display in the front of the restaurant to learn Kikuya's history. There are many historical items inside too. Among them, the chrysanthemum emblem bestowed by Shinshoji, as well as the "独立自尊" (meaning "independence and self-esteem") calligraphy written by Yukichi Fukuzawa is especially a must-see. The trade name "Kikuya" was named after the Kiku (chrysanthemum) emblem. Shinshoji has been permitted to use the chrysanthemum emblem of the imperial family, and the emblem was bestowed on Kikuya during the Edo period. It is amazing that you get to see such a valuable item in person.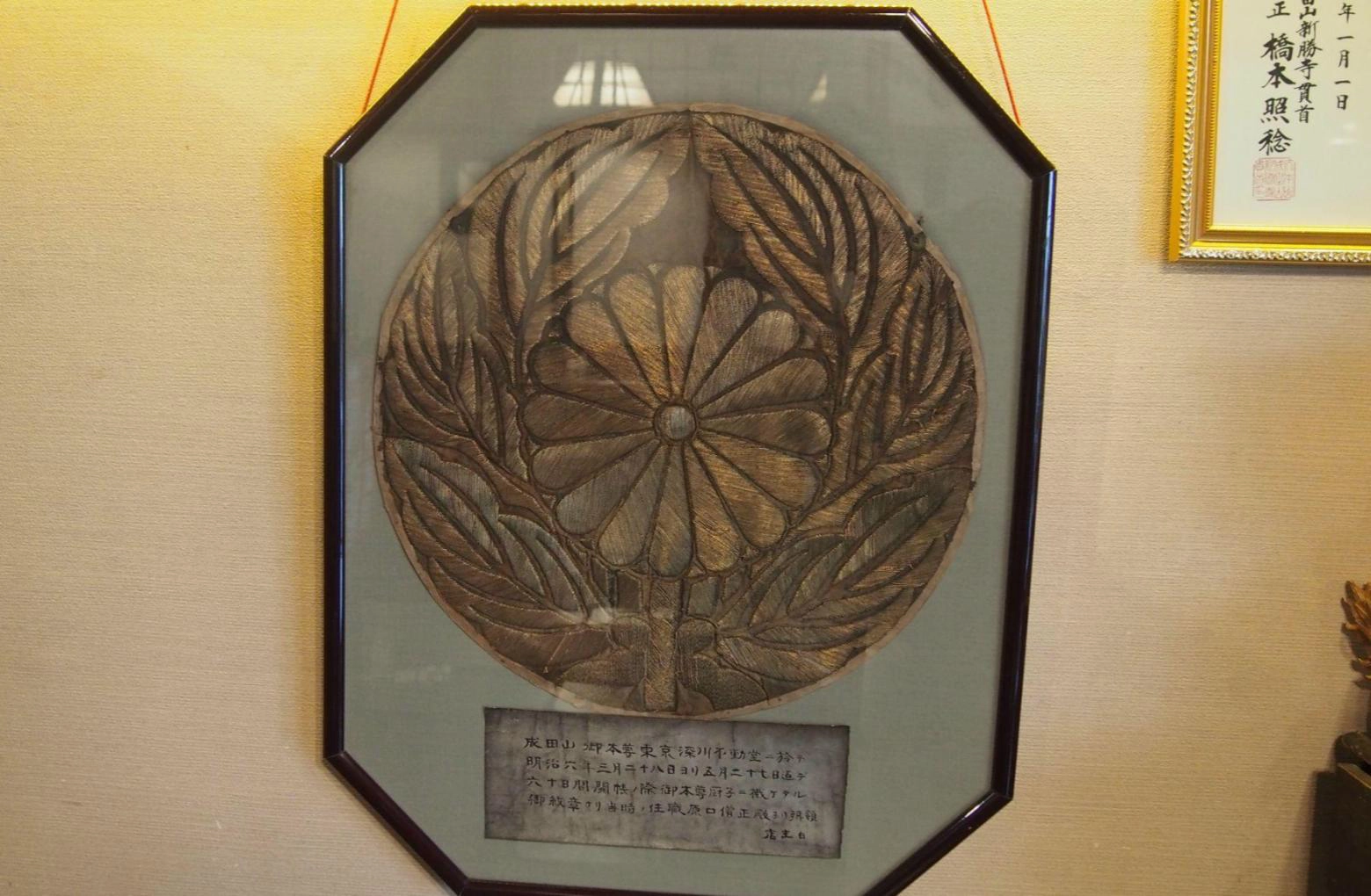 The impressive chrysanthemum emblem
The "独立自尊" calligraphy also tells of Kikuya's prestigious history. A long time ago in Naganuma Village (currently Narita City), there was an incident called the "Naganuma Incident" in which there was a conflict over the fishing rights over the large pond called "Naganuma." The person who played a crucial role in resolving the conflict was Yukichi Fukuzawa—the person on the 10,000-yen bill. He gifted the calligraphy to Kikuya when he visited there. The calligraphy is displayed in a frame, so you can see it anytime. Don't miss out on seeing this valuable piece of calligraphy when you go to Kikuya. Now that Mr. Ishibashi has given me some insight into the history of Kikuya, it's time to eat the eel dish!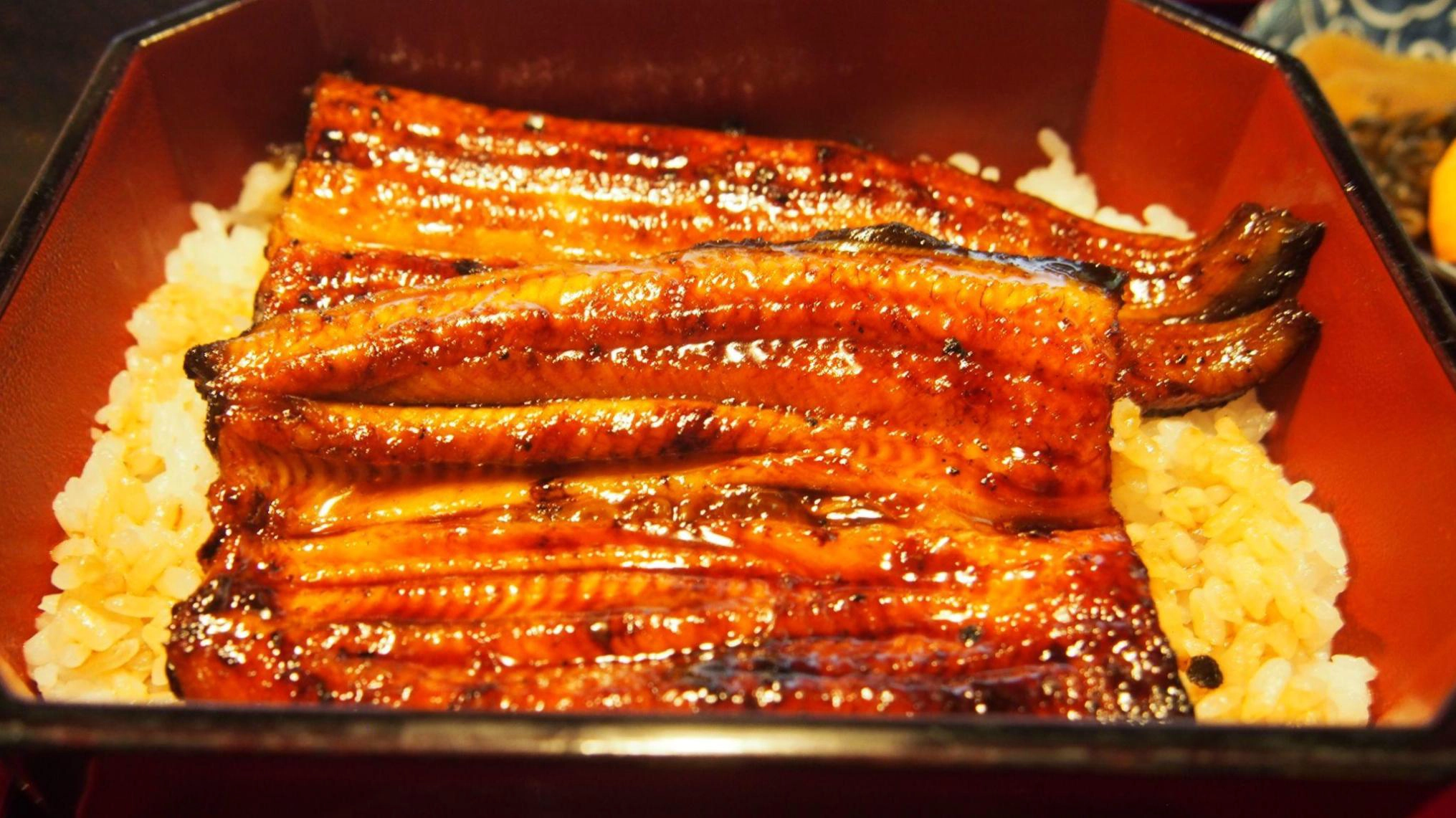 Special U-naju(use the domestically-caught eel) combo Regular size (2 pieces) served with clear soup and Japanese pickles / ¥4,600 (incl. tax)
When I opened the lid, the fragrant smell of the Kabayaki eel rose with the steam. At Kikuya, the sauceless grilling process is longer than that of the standard Kabayaki-cooking process. Also, many eel restaurants in Tokyo use low-salt and low-sugar sauce with a light taste, whereas Kikuya uses traditional style sauce with rather strong saltiness and sweetness. Although traditional sauce gets burned easily, the eels are grilled to perfection by the masterful skills of experienced cooks. Cooked with such care and attention to detail, not only does the eel over rice have amazing texture and flavor, but its sauce also goes amazingly well with rice. It is just so good that we all can't stop eating! There is an interesting anecdote that Mr. Ishibashi told me. One time, film director Steven Spielberg wanted to eat Kikuya's eel over rice so bad that Kikuya delivered a bowl of eel over rice to the hotel so that he could eat it while on the airplane. And here is some good news. On the menu, it says that the domestically-caught grilled eel over rice is available only when the eels are in stock, but Kikuya is constantly purchasing them to keep them in stock basically at all times so that customers can enjoy the taste of eels caught in Japan. They also use carefully-selected rice grown in Narita. When you go to Kikuya, make sure to try the exquisite taste of the combination of eels and rice grown in Japan.
Moreover, in Narita, although Kikuya is known for eels, their deep fried pork is also very popular, so we decided to try them, too. According to Kikuya, they began serving deep fried pork together with other deep-fried dishes, such as tempura, in order to cater to the needs of those who don't like raw fish, staff of foreign airlines, and foreign tourists, and it has been a popular dish ever since Narita Airport opened. So, you can also enjoy deep fried pork as part of Kikuya's Omakase (chef's choice) course meals.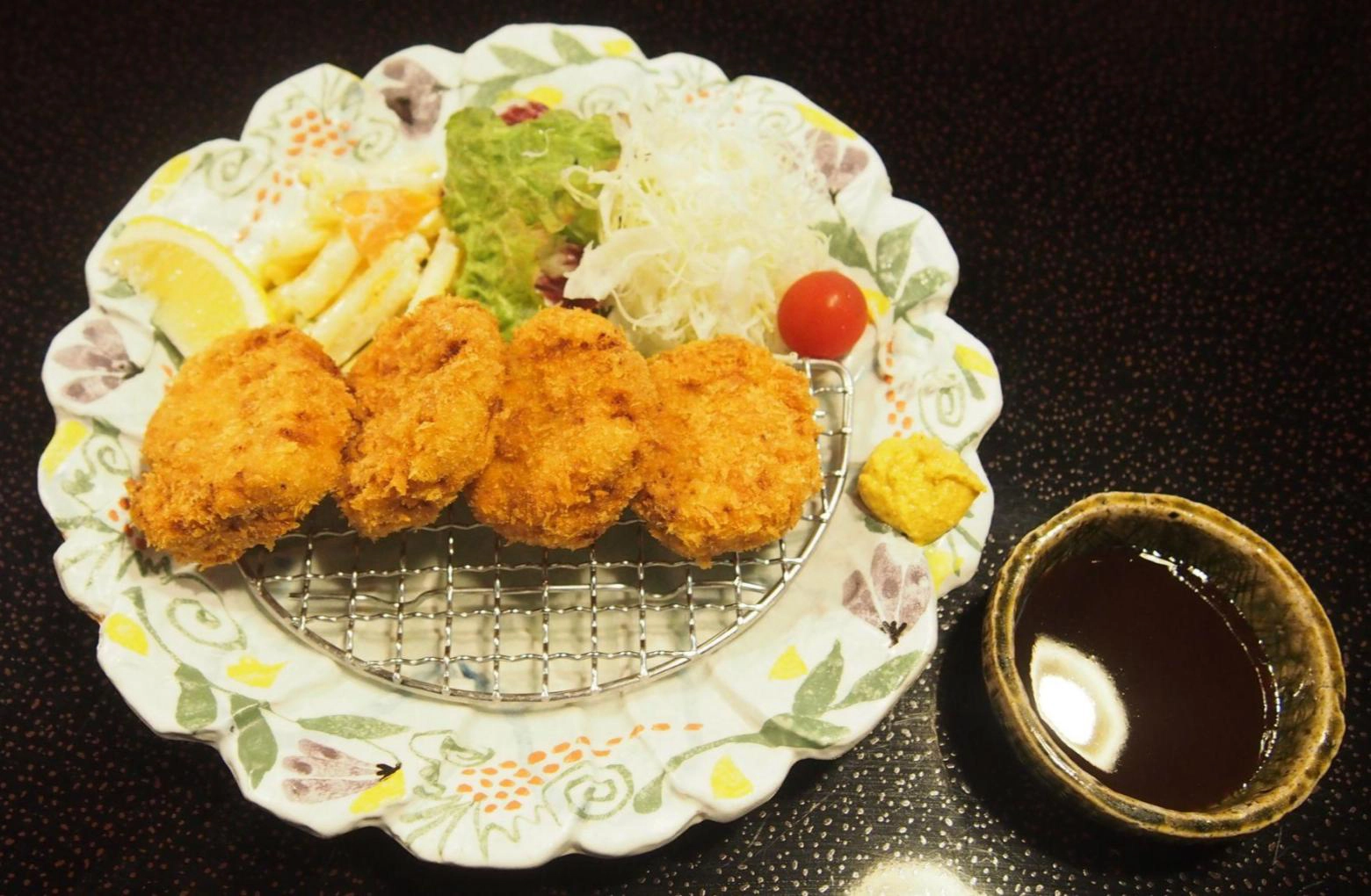 Deep Fried Pork: ¥1,300 (incl. tax) / Combo (with miso soup and Japanese pickles): ¥1,800 (incl. tax)
The tender and moist meat and the mouth-watering sound of the crispy batter—this cutlet truly goes well with rice. It is so good that I would definitely come back just for this cutlet. The rustic macaroni salad on the side also tastes great.
As I was enjoying the deep fried pork, Mr. Ishibashi told me that Kikuya's sister restaurant "Kamicho Kikuya" opened in 2022. Also located along the sando, not only does Kamicho Kikuya serve the same exquisite eel and Japanese cuisine, but it also serves a wide selection of Western liquors. One of their specialties is Irish coffee. Irish coffee is a type of cocktail consisting of Irish whiskey, coffee, sugar and fresh cream. Now I've got to try that! When you walk along the sando toward Narita Station, Kamicho Kikuya is about five minutes away from Kikuya.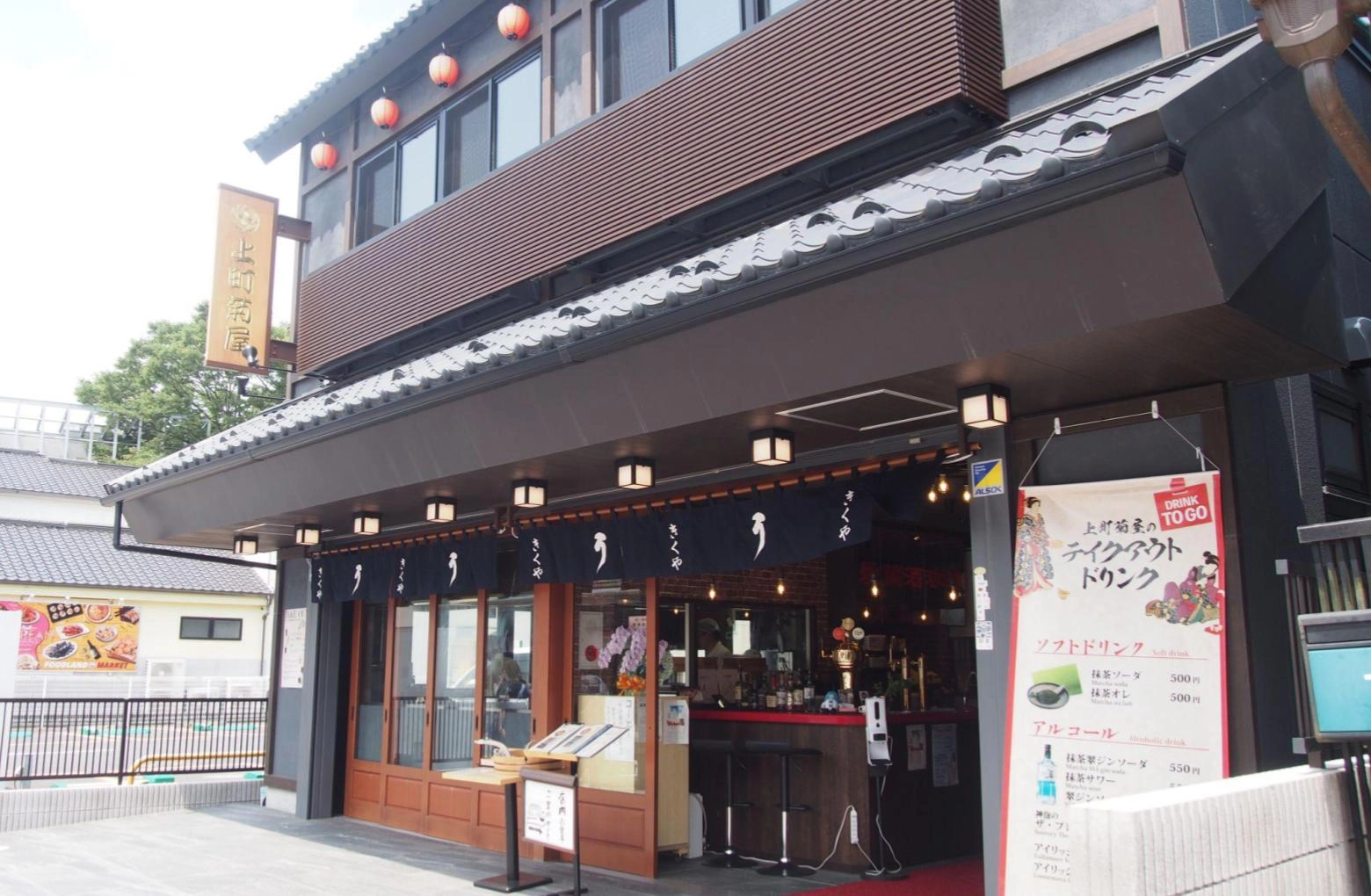 Kamicho Kikuya has impressive golden beer dispensers.
At Kamicho Kikuya, you can enjoy Irish whiskeys, as well as Irish coffee prepared with Japanese or American whiskeys. They told me that they even serve a non-alcoholic version, so this time we decided to try the non-alcoholic version.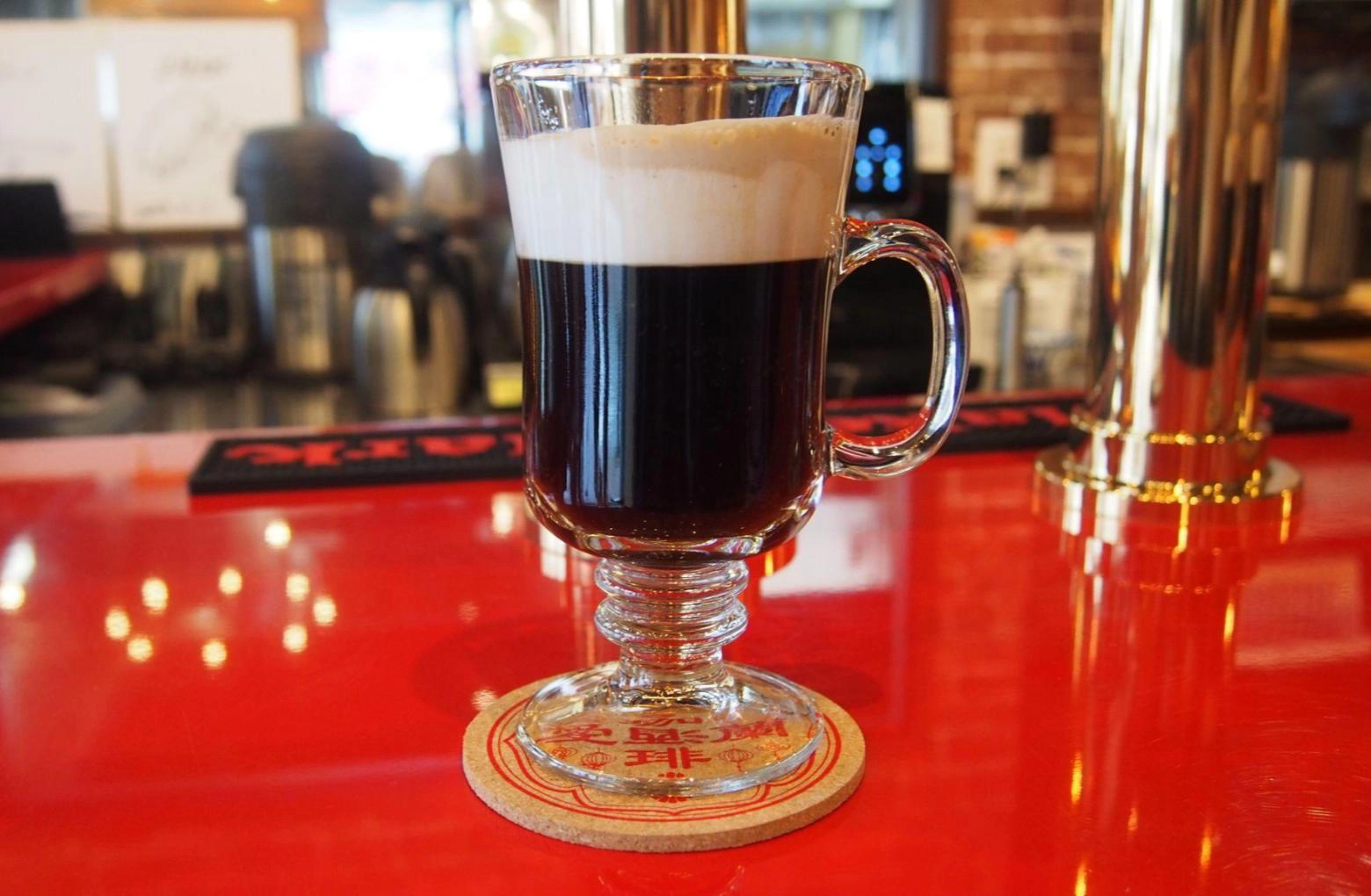 Irish Coffee (Non-alcohol) / ¥450 (incl. tax) Irish Coffee / ¥650 - ¥800 (incl. tax) depending on the whiskey
The staff member told me that "the proper way of drinking Irish coffee is to drink it as it is without stirring." When I put cold cream and hot coffee together in my mouth, just the right level of acidity and bitterness, combined with the natural sweetness of cream and caramelized brown sugar, creates bliss in my mouth. It's a perfect drink after a meal. You can also order it to go, so it would also be nice to warm yourself up when visiting Shinshoji during winter.
With a great history and meticulous care and attention to their food, Kikuya is always updating its service standards, including the opening of its sister restaurant. The menu is written in English as well, and some staff members can speak foreign languages. Also, it only takes ten minutes by train from Narita Airport to Narita Station, which is the nearest station from Kikuya. You will find it in no time as you walk in the quaint town of Narita. If you are arriving at or leaving from Narita Airport, definitely visit Kikuya and enjoy the Japanese cuisine.
■DATA Address: 385 Nakamachi, Narita City, Chiba Opening hours: 10 a.m. – 9 p.m. (Last order at 8 p.m.) Open 365 days a year Tel. 0476-22-0236 Official website: https://kikuyanarita.jp/ Address: 553-1 Kamicho, Narita City, Chiba Opening hours: Mon.-Sat. 11 a.m. – 9 p.m. (Last order at 8 p.m.) Sun. 11 a.m. – 6 p.m. (Last order at 5:30 p.m.) Open 365 days a year Tel. 0476-36-8036 Official website: https://kamicho-kikuya.com/ (Information as of August 2023)