Amazing Food in Narita (Part 1): Kawatoyo Honten—The Secret to Delicious "Unagi"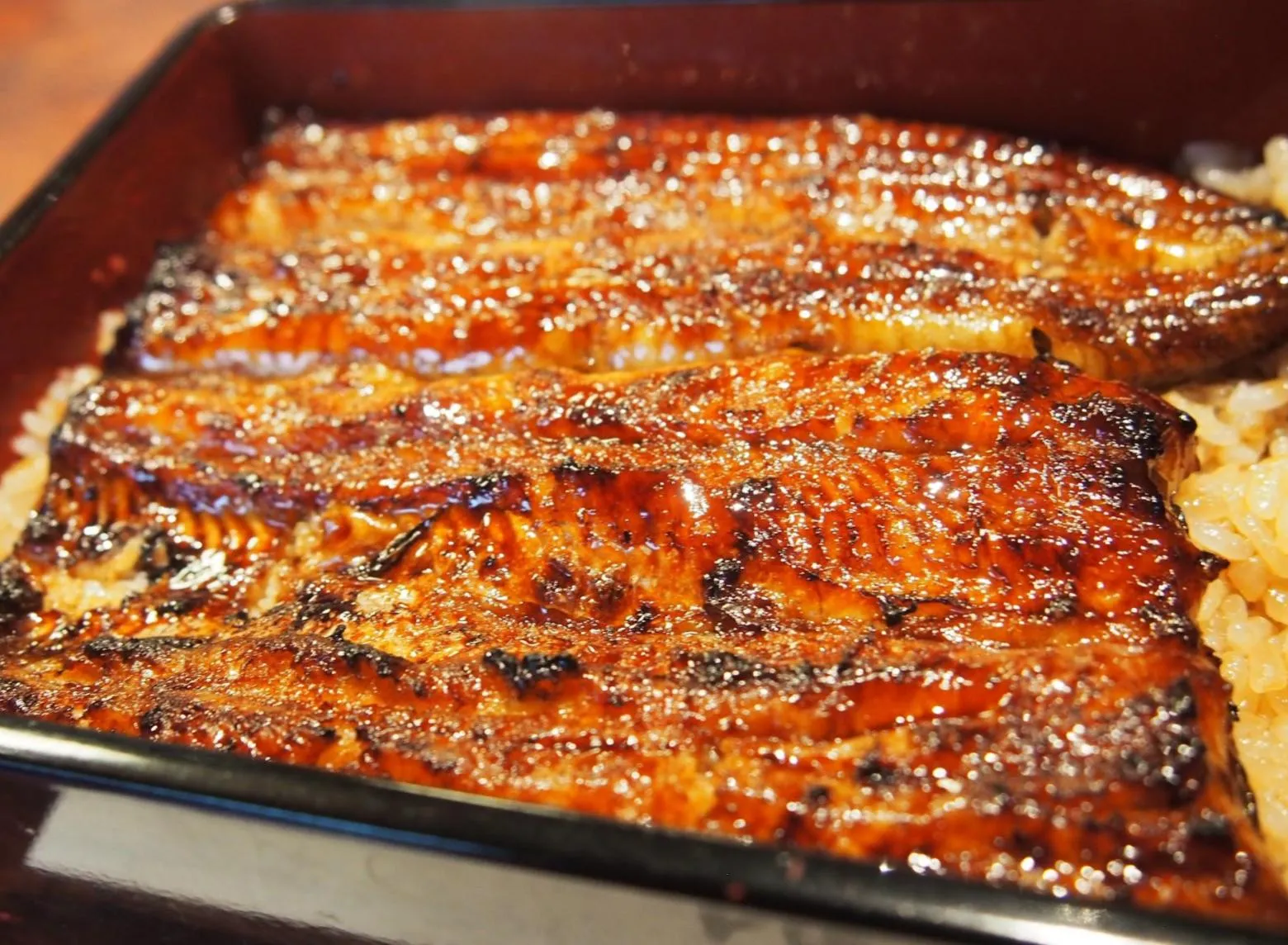 "Unagi," the Japanese eel, is widely known as one of the famous delicacies of Narita. It is so popular that you need to get a numbered ticket and wait even on weekdays. In this article, we shed a spotlight on a long-established restaurant, Kawatoyo Honten, and the secret to their delicious eel dishes.
Narita Airport is in Narita City, Chiba Prefecture. In the same city, there is a temple called "Naritasan Shinshoji"(Shinshoji) that attracts the highest number of temple visitors in Japan. During the Edo period, Narita prospered as a temple town of Shinshoji. The temple sees so many visitors even on weekdays, and it is popular among foreign tourists as well, as it is close to the airport. And there is a dish that pretty much all visitors eat in Narita—unagi (Japanese eel).
The reason that eels have become a famous delicacy of Narita is that there is Lake Inbanuma near the city, and people have always been enjoying freshwater fish, including eels, since old times. Even to this day, there are many eel restaurants along the sando (a road approaching the temple), tempting the passersby with the fragrant and appetizing smell. Out of all the eel restaurants along the sando, we visited Kawatoyo Honten this time.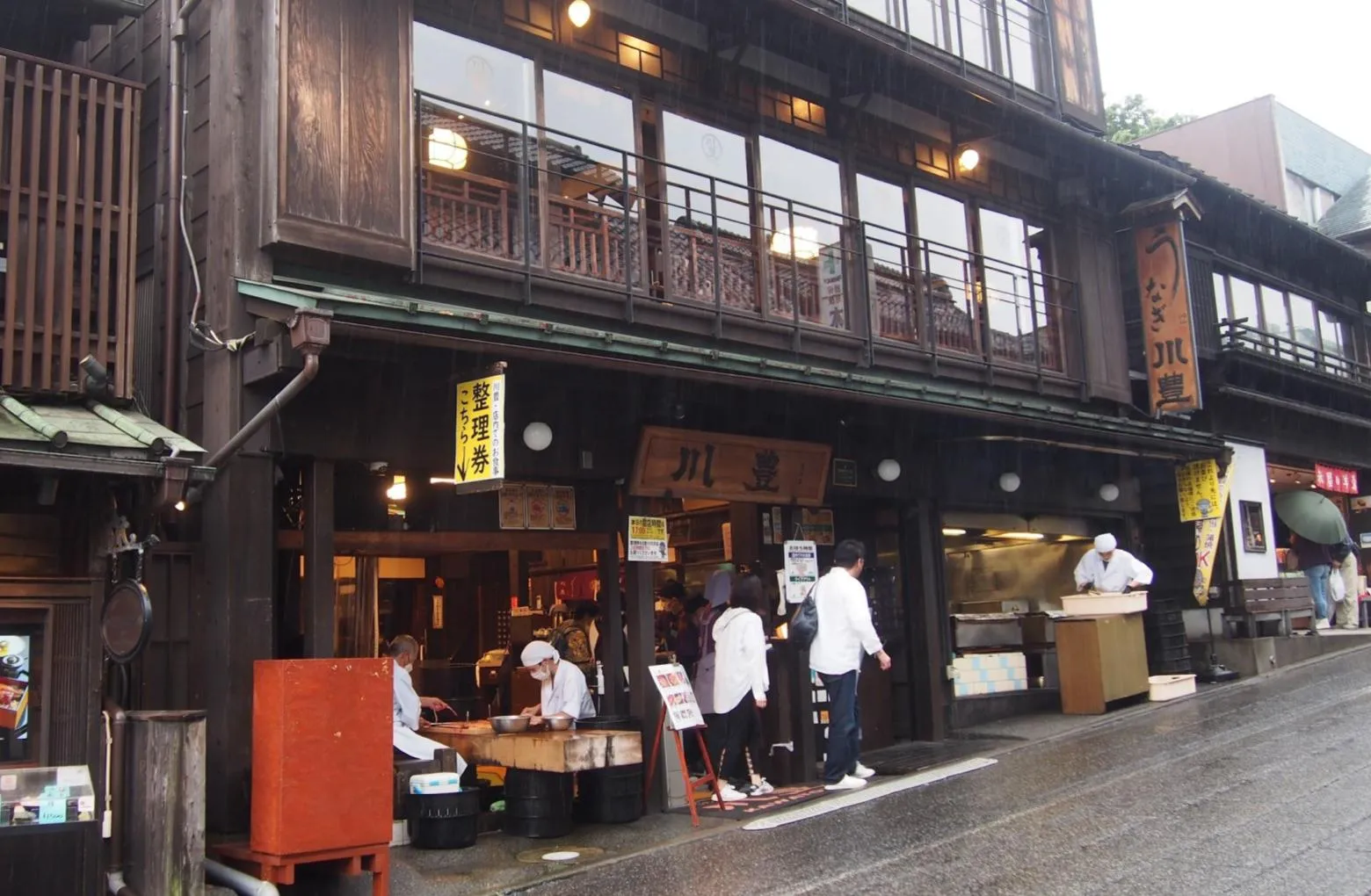 Kawatoyo Honten is a best-of-the-best restaurant that everyone in Narita knows.
When we arrived, the first thing that grabbed our attention was its quaint appearance. That is no wonder because it has a long history of over 100 years, as it was founded in 1910. It was initially a two-story building, but the third floor was added in 1926, and it hasn't been changed ever since. The building alone is worth seeing. After appreciating the beautiful exterior, let's go inside! The staff welcomes you with a warm greeting. Past the old-style steep stairs is a quaint dining space.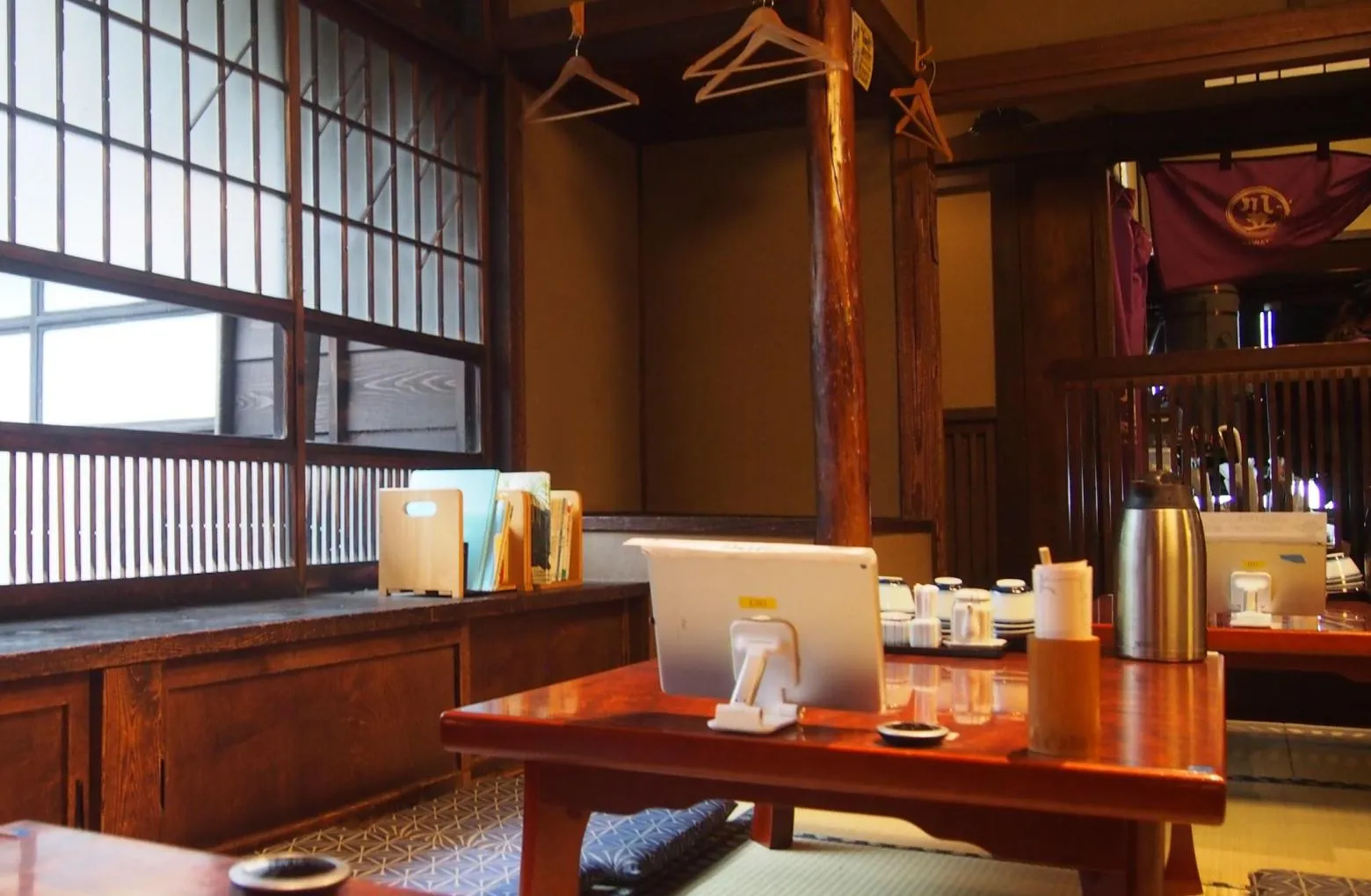 You can see so much history in the interior.
In 2020, it was designated as one of the national registered tangible cultural properties. It feels like just dining in this place would make eels taste even better. We ordered Large Grilled Eel over Rice that, according to the restaurant, over 60% of customers order. While waiting for freshly grilled eel over rice, we talked to one of the staff members, Ms. Onuki who has a wonderful smile.
・Among the many restaurants that serve eel dishes, what are the strengths and characteristics that differentiate your restaurant from others? Ms. Onuki: Kawatoyo has always been focused solely on serving eels. The chief cook with over 50 years of experience, as well as our other indispensable, highly experienced cooks pick out only the high-quality eels. Fresh eels that we purchased are stored alive in well water. By doing so, we can serve you with "freshly filleted, freshly steamed, and freshly grilled" eels that we always strive to provide.
・What are the particular efforts that you put into your Kabayaki eels? Ms. Onuki: We have been topping up the container with the sauce ever since the restaurant was founded. Every time eels are dipped in the sauce, the umami from the eels seeps out into the sauce, making the sauce tastier and mellower.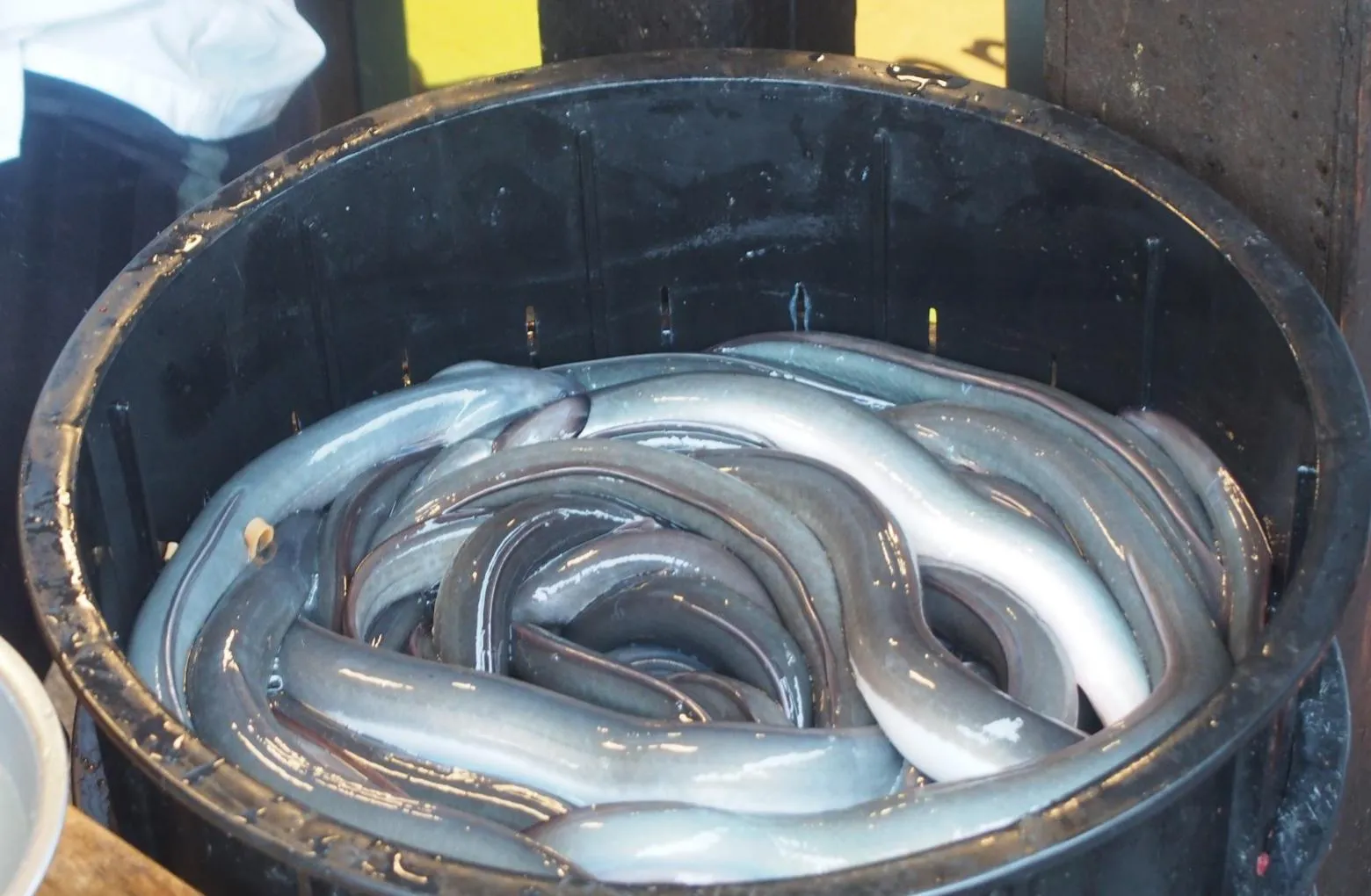 Having started out as an eel wholesaler, the staff have an extraordinary eye for good eels.
At the front, you can see the entire cooking process from filleting to grilling. The Kabayaki cooking process at Kawatoyo consists of filleting, skewering, grilling, steaming, and grilling again. The first step—filleting. Chief cook Mr. Eguchi fillets eels at the filleting space with such speed and precision. Surprisingly, he has been working for the restaurant ever since he graduated middle school. Nothing but respect to him. His professional and sophisticated way of filleting eels is so captivating that watching it almost makes you lose sense of time.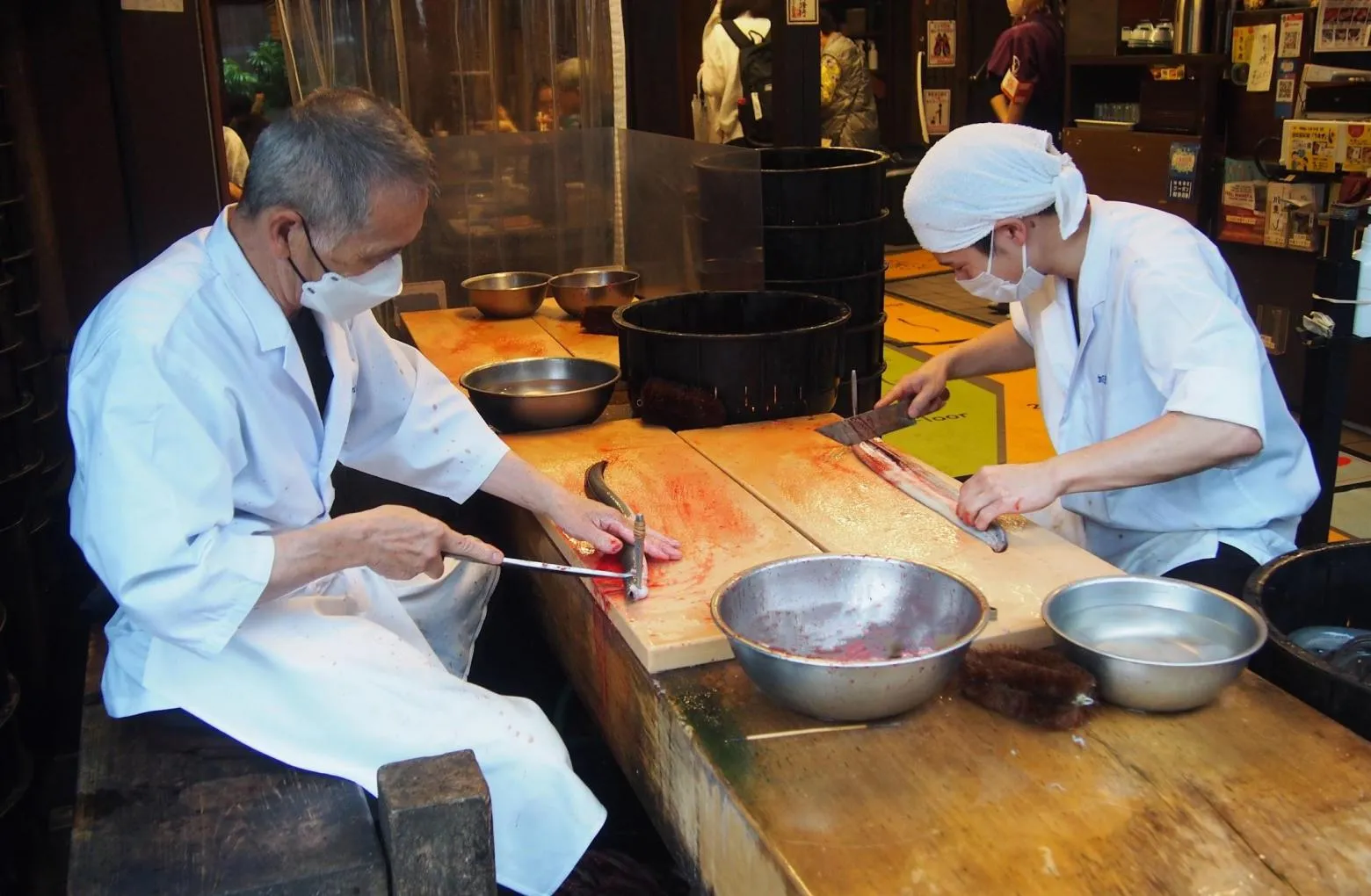 Carefully filleting eels one by one in a masterful manner.
Beautifully filleted eels are carefully skewered one by one, then lightly grilled in the "Shirayaki" process without any sauce or oil. After that, they are steamed to create the amazing softness. It is already delicious at this point, but you still need a very important thing to make it a "Kabayaki"—the sauce.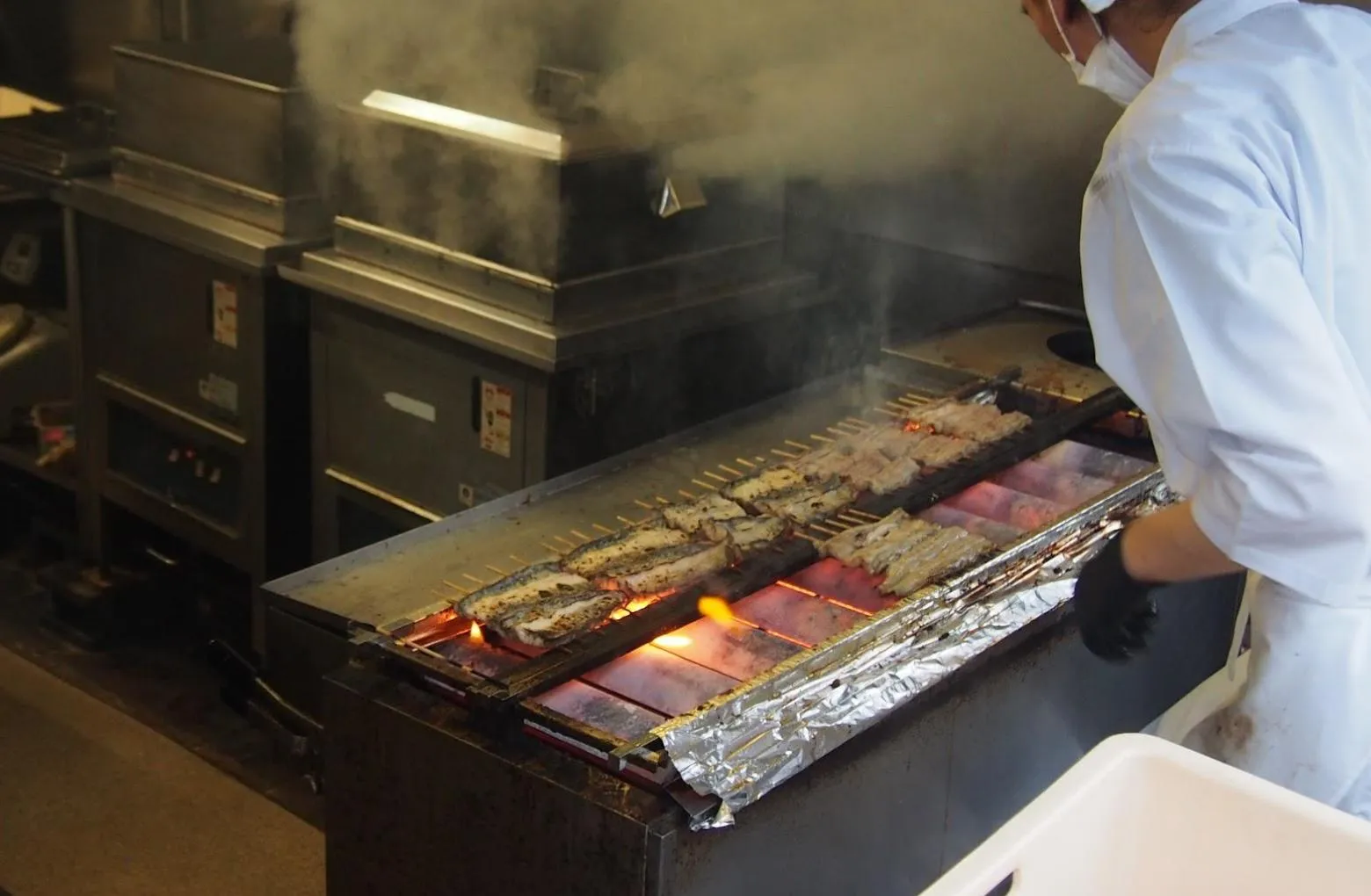 Eels being grilled in the Shirayaki process. After this, they are steamed in the steamers in the back.
After steaming, eels are grilled again—this time, they are dipped in the sauce three times. And there we have it—the famous grilled eel over rice. Watching the eels get grilled nice and brown made me even more excited to eat it.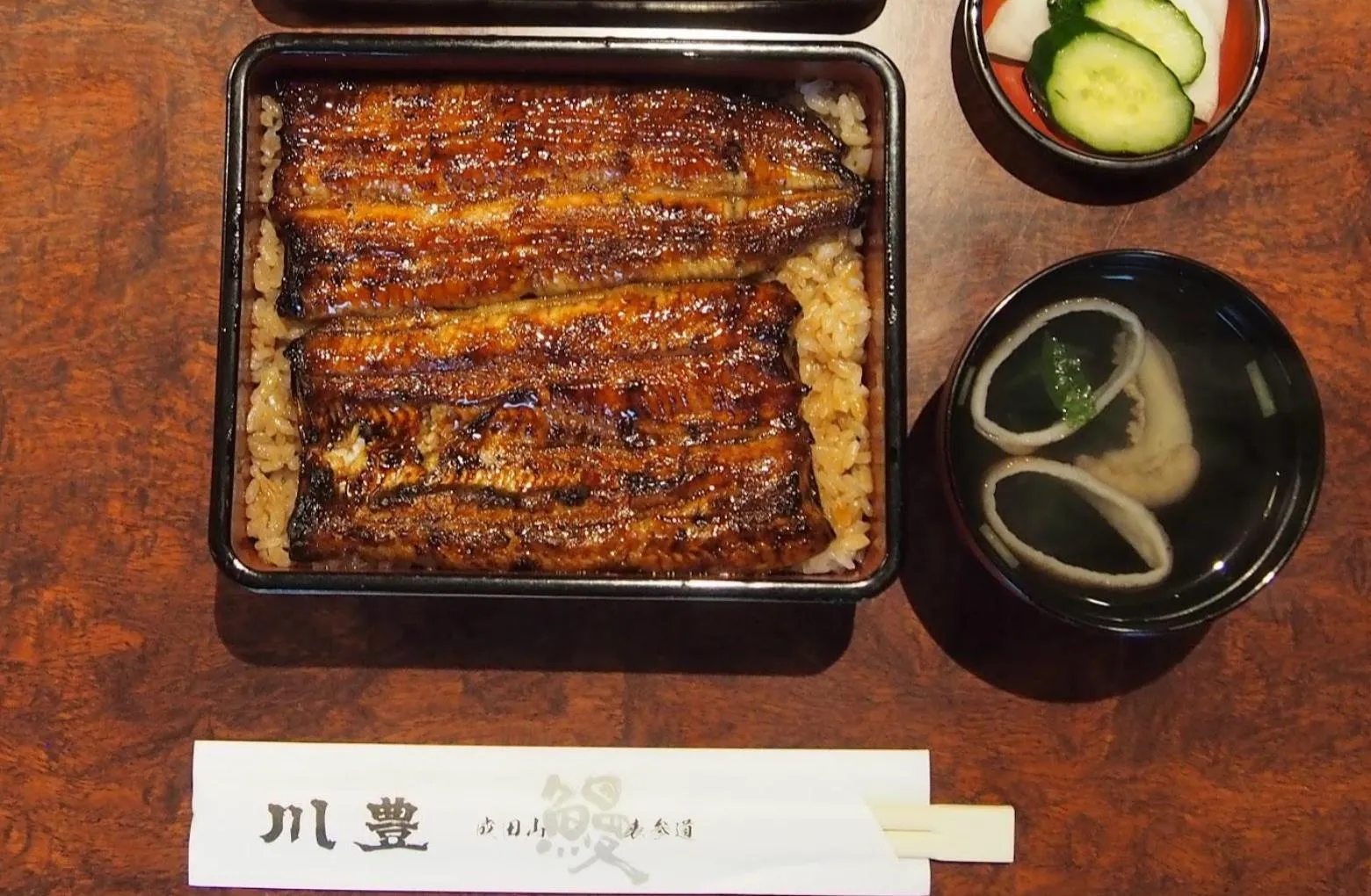 Large Grilled Eel over Rice (One eel) / ¥3,900 incl. tax Eel Liver Soup / ¥200 incl. tax
The fragrant eel that has been carefully grilled with their special sauce naturally brings a smile to my face. Despite the thickness, the fillets are so soft and fluffy even down to the skin that it feels like they melt in your mouth. The sauce has a light taste, but it also has a gentle sweetness to it. "So, this is the taste they have been protecting ever since the foundation of the restaurant," I thought, picturing a scene from long ago in my mind.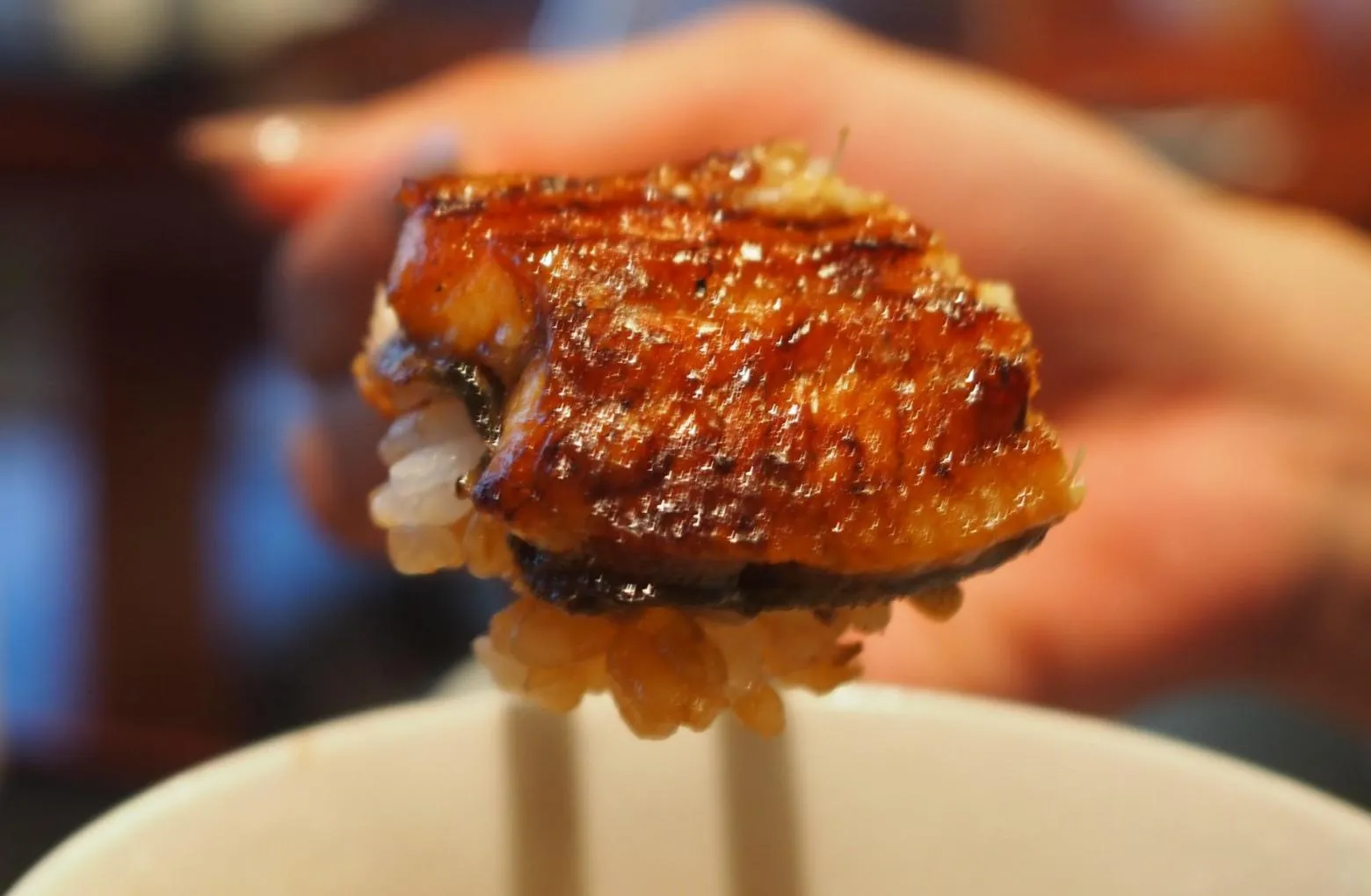 The slightly sweet sauce has also seeped into the rice below, and it tastes amazing.
There is another essential ingredient—Japanese pepper that goes well with eels. The spice has a distinctive, refreshing scent and a slight spiciness that makes eels taste even better. The sharp spiciness, combined with the sweetness of the sauce, brings out a different flavor. When you use it, start out with a small amount and add little by little until you find the best balance.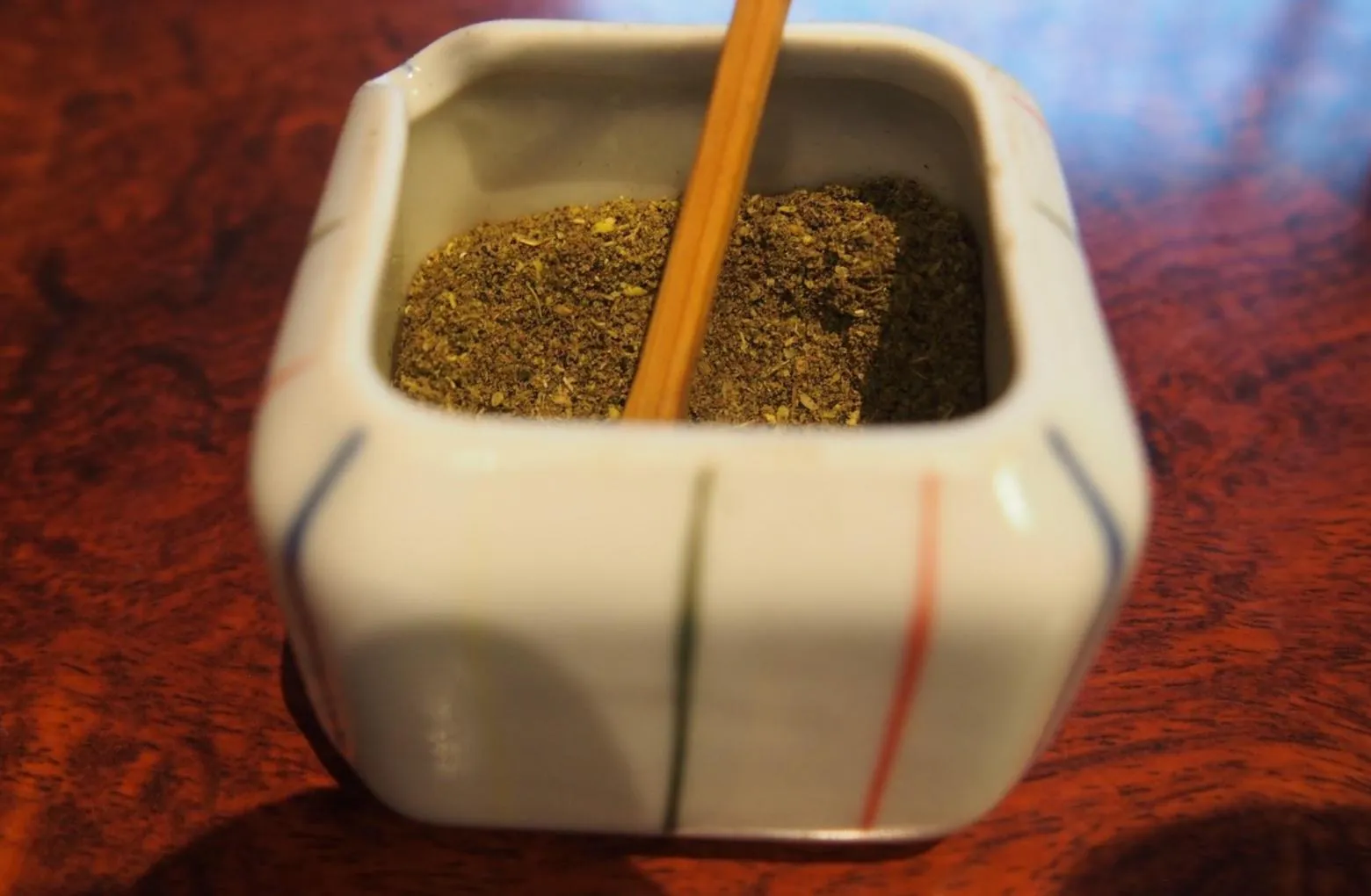 The sharp and refreshing spiciness of Japanese pepper goes perfect with the sauce.
Another thing that you shouldn't miss when eating an eel dish is liver soup. It is a soup with an eel's liver, which has a distinctive flavor and a crunchy texture. The delicious liver soup served at Kawatoyo has a light taste that goes well with sweet eels.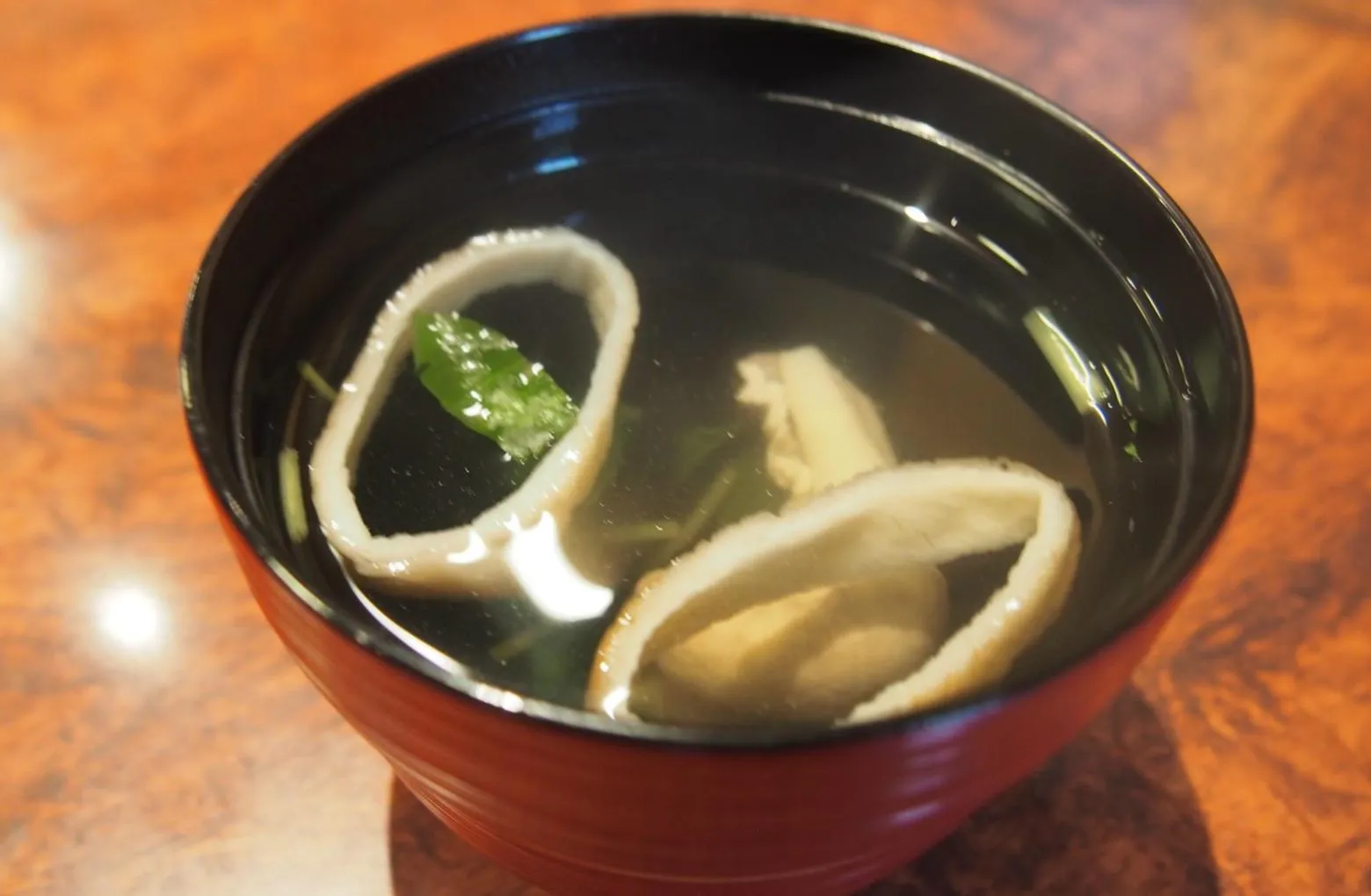 The liver soup. Highly recommended with an eel dish.
In addition to Kawatoyo Honten introduced here, the restaurant also has a sister restaurant called "Kawatoyo Bekkan" featuring spacious dining spaces and private rooms, where you can enjoy a variety of Japanese dishes in a relaxed atmosphere. Only ten minutes by train from the airport to the closest station, Narita Station. If you are coming to Japan and using Narita Airport, definitely try the eels of Narita! The unforgettable taste of the eels served at Kawatoyo will make you come back for more. Kawatoyo Honten http://www.unagi-kawatoyo.com/foreign/index.html 386 Nakamachi, Narita City, Chiba (Information as of July 2023)