"bacon"—a hot spot in Shin-Okubo that you'll definitely want to visit this summer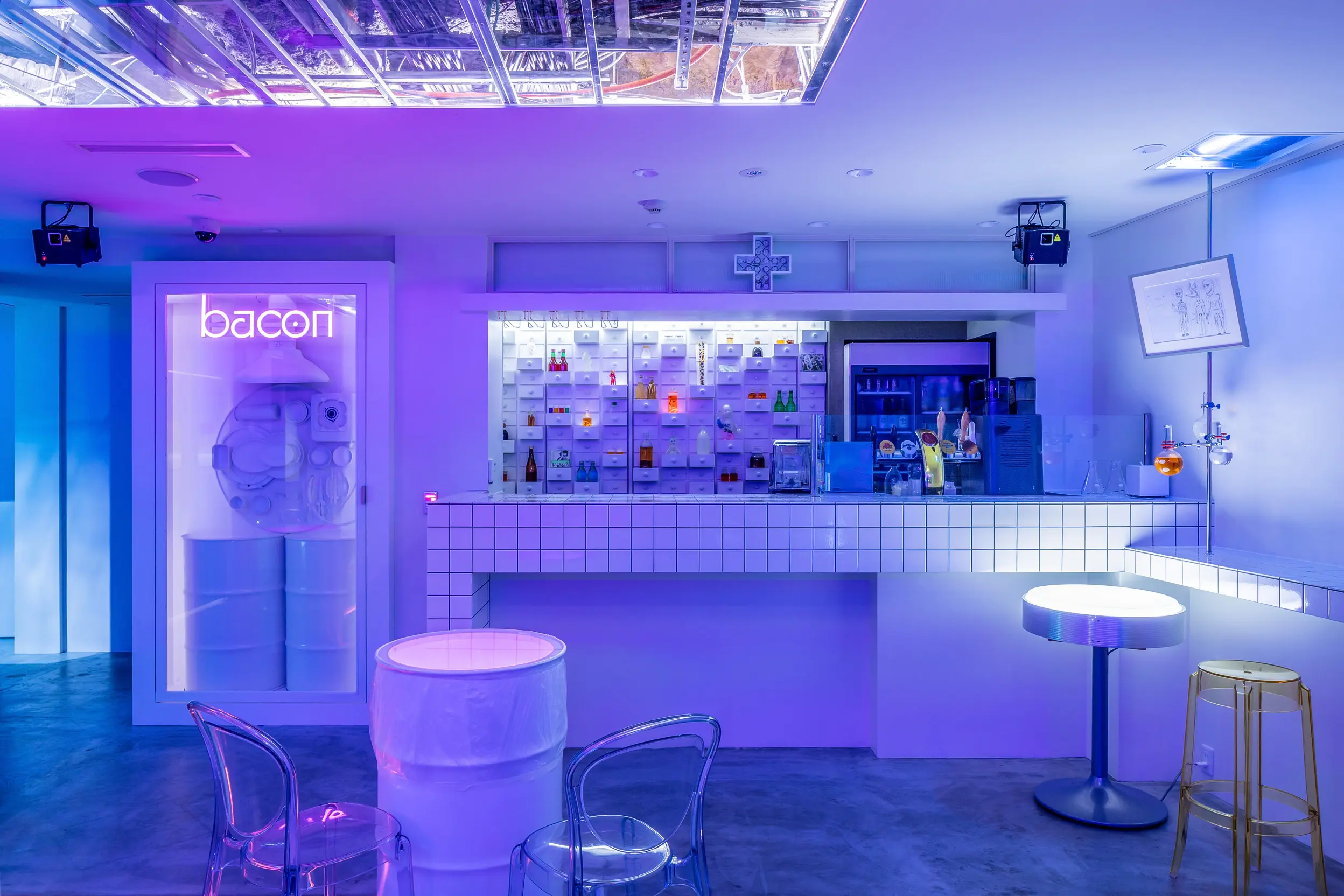 Everyone is talking about café/bar "bacon" that opened on Ikemen Street in Shin-Okubo, Shinjuku City!
Shin-Okubo, a town which is one station away from Shinjuku, is popular as a Korean town where you can find many Korean cosmetics and fashion shops. In the trendy town, Tonchang, a famous samgyeopsal specialty restaurant, has opened a café/bar/lounge called "bacon"!
Featuring a DJ booth, it invites guest DJs from both around Japan and overseas on weekends, so you can enjoy music from a variety of genres. It also holds a variety of music and fashion events until late, having become an integral part of the nightlife in Shin-Okubo.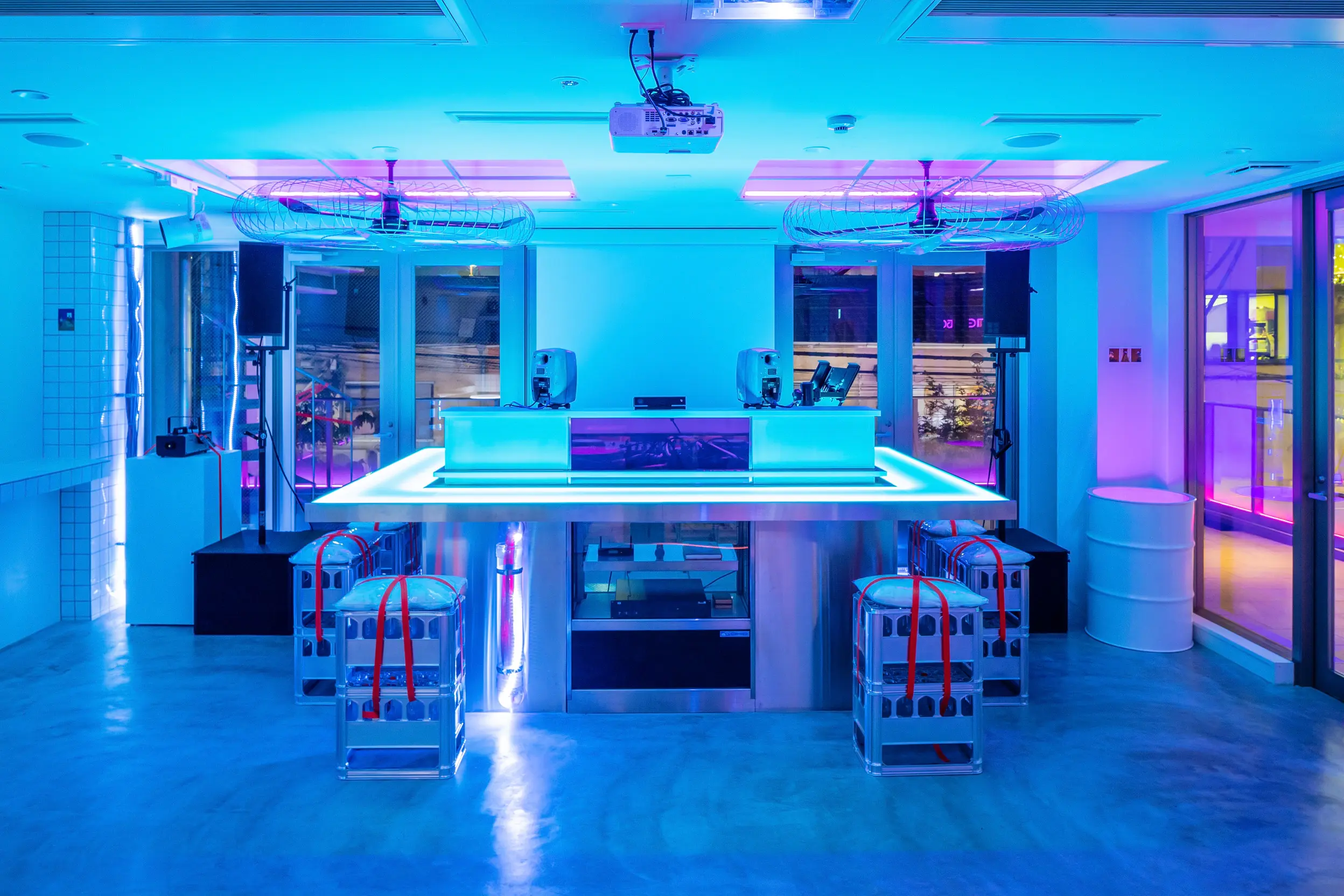 The DJ booth has been set up close to the dance floor, so you can enjoy dancing and drinking near the booth.
The space glowing in neon colors has been designed under the concept of "Korean x near future." Only Tonchang—the very first samgyeopsal specialty restaurant in Japan, and which has been promoting Korean trends in Japan—can build a place like this.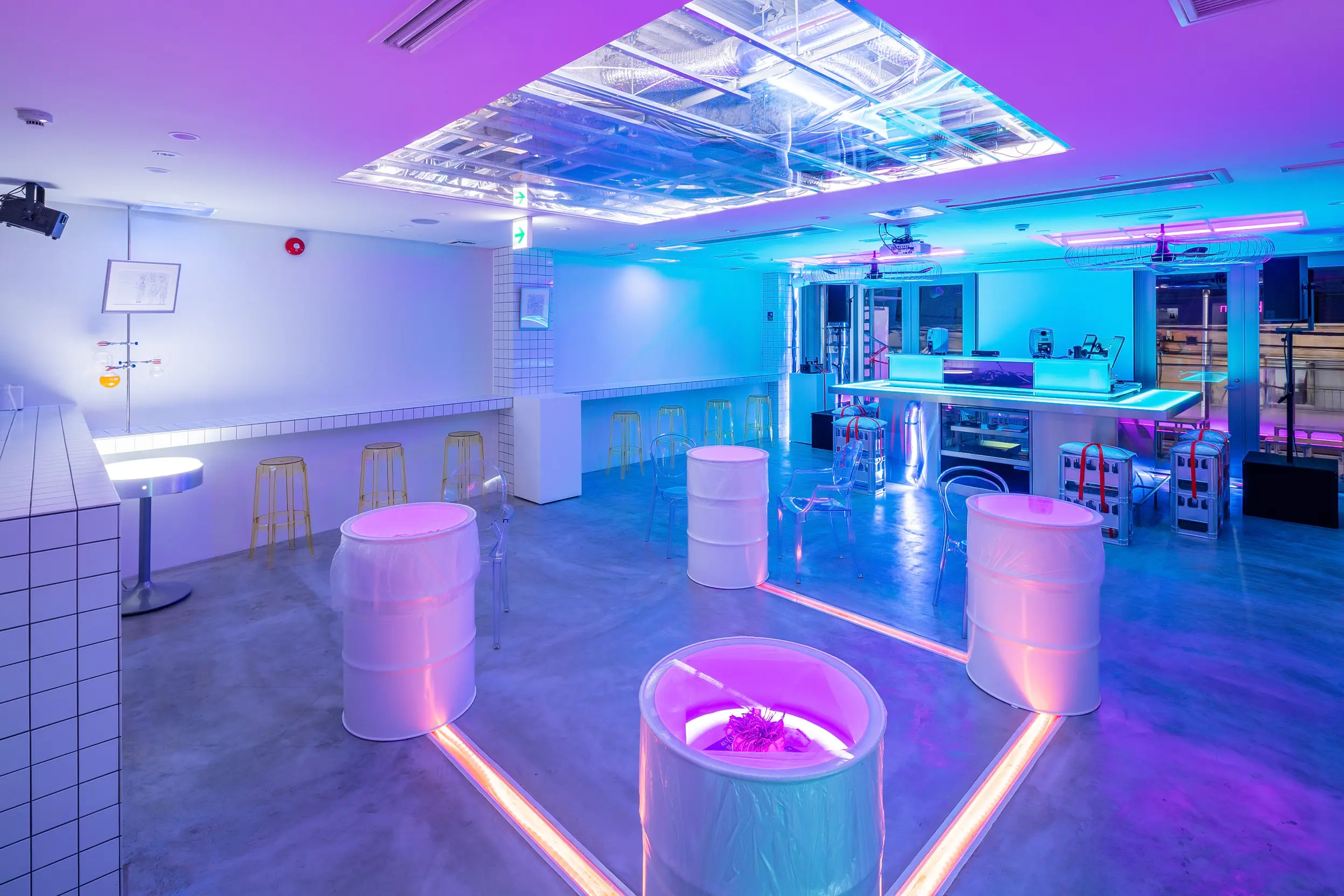 The "Korean x near future" fusion space has been creating a buzz on social media.
The furniture has been inspired by the street food stalls of Korean markets. You should also check out the uniquely-designed lounge and bar counter. The former has been inspired by Korean-style saunas called "jjimjilbang" and the latter has been inspired by traditional Korean herbal medicine shops.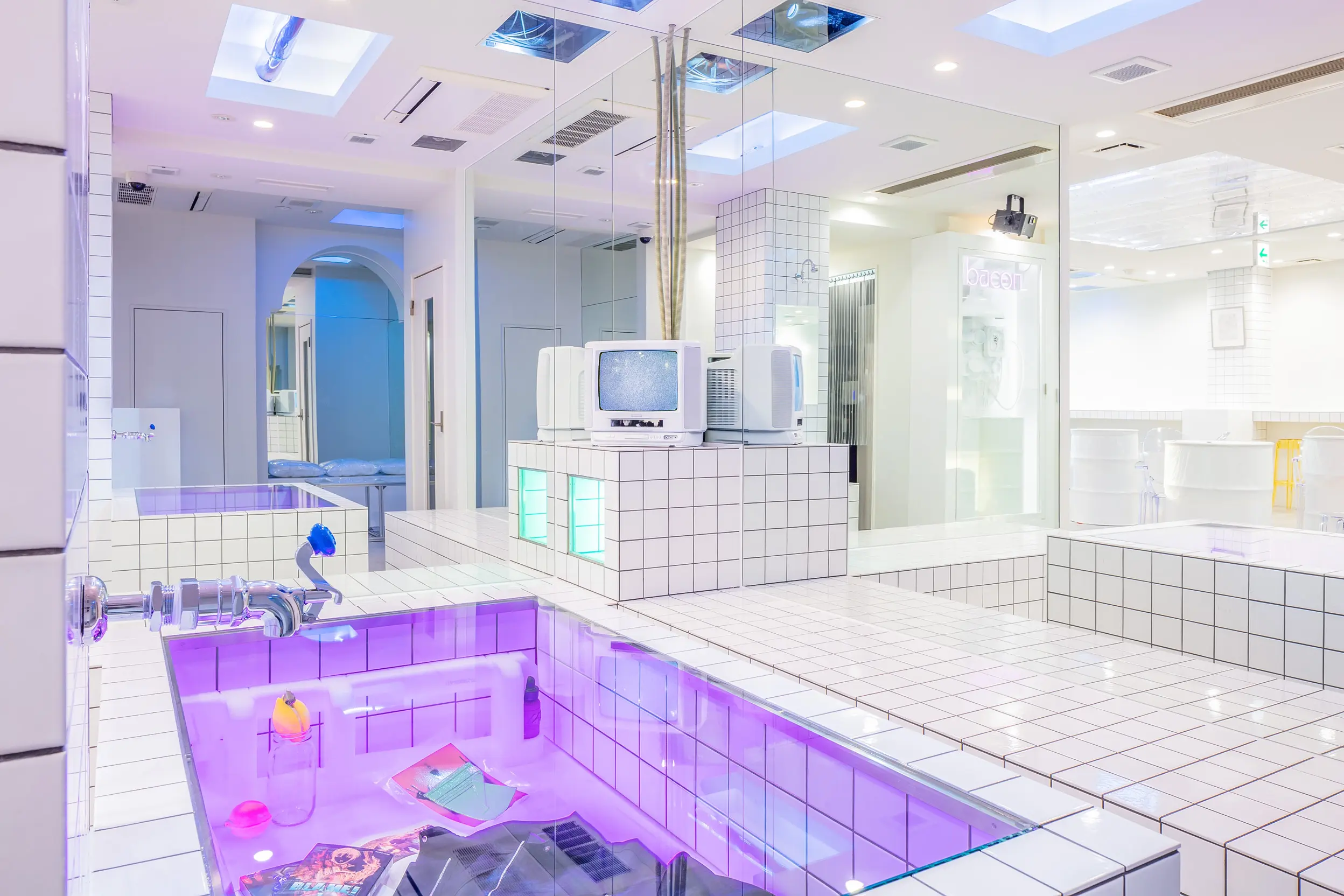 The lounge inspired by Korean-style "jjimjilbang" saunas
During the day, it operates as a café with a terrace seating area that gives a sense of openness, serving Korean fusion dishes, desserts, and beverages. The benches and tables, which have been designed by the owner, who was inspired by painter Francis Bacon and contemporary artist Damien Hirst, also look amazing. It is also perfect for taking a rest during shopping.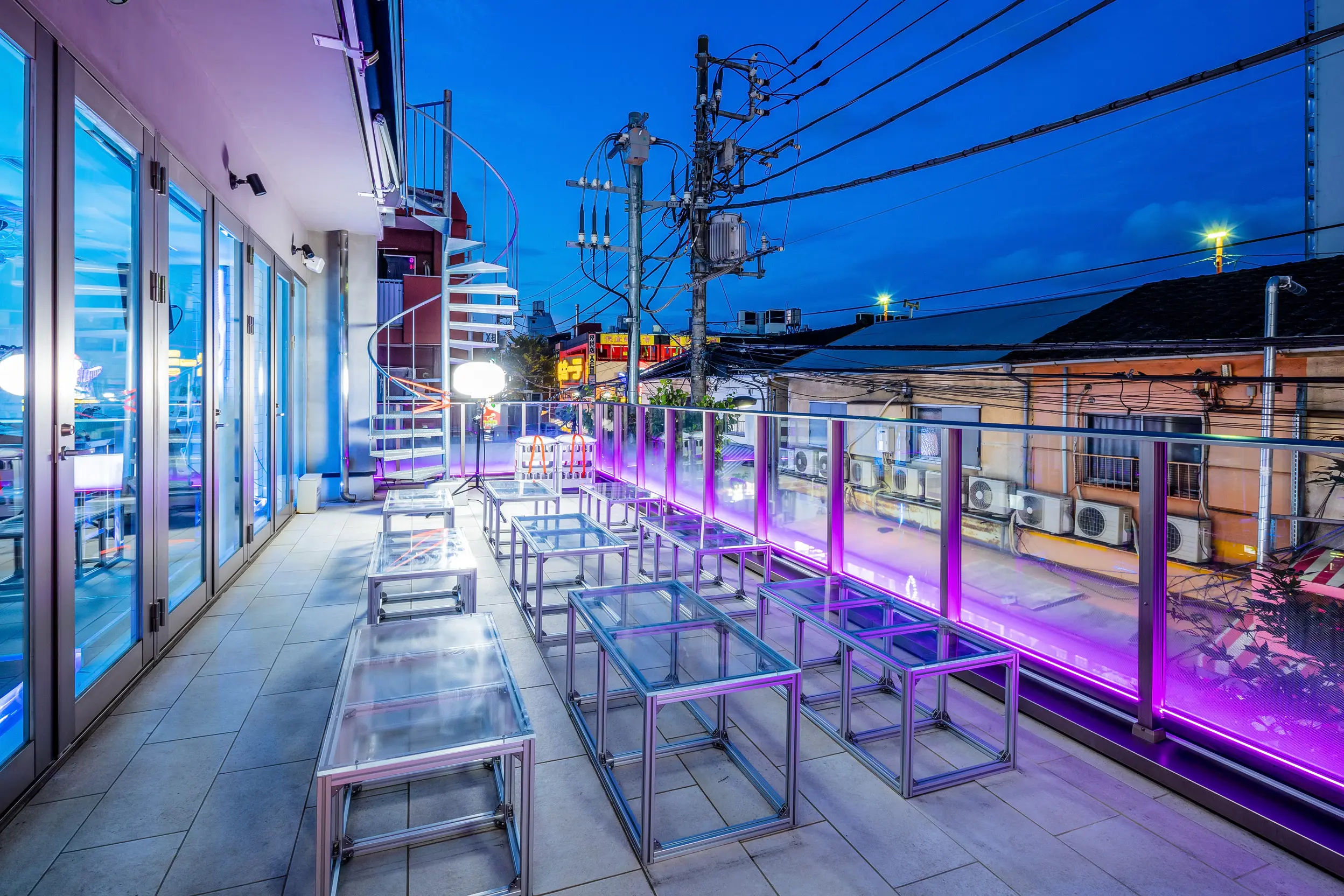 The open-air terrace is a nice place for socialization where you can meet people from different countries.
FYI, Tonchang's sister restaurant is in the same building, so you can enjoy a delicious Korean dinner there, then go to bacon for an exciting event that will make your trip even more satisfying. If you want to experience the latest trends of the exciting and captivating local entertainment in Tokyo, definitely go check out "bacon"—a place where you can meet people from different cultures, and which brings you an experience like you've never had before! Before visiting, make sure to check their Instagram account for events!
■DATA Address: TONCHANG BUILDING 2F, 1-17-5 Okubo, Shinjuku City, Tokyo Opening hours: [Café] 11 a.m. – 6 p.m. [Bar] 6 p.m. – Midnight Instagram: https://www.instagram.com/bacon_okubo (Information as of July 2023)