Experience Showa-period Japan in Bungotakada City!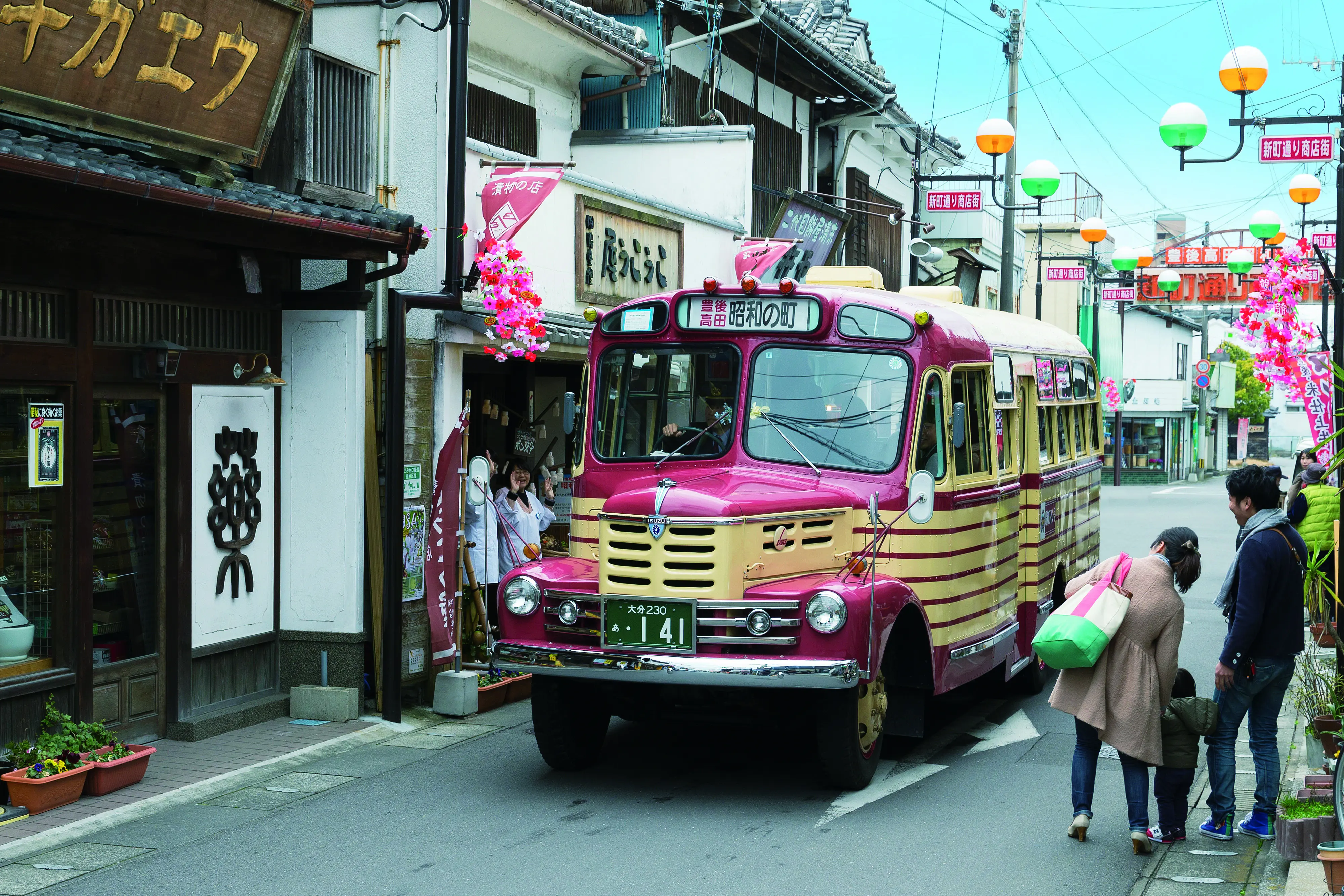 Bungotakada—a retro city in Kyushu Would you like to travel back in time to the nostalgic Showa period?
The 1960s—the time when Marilyn Monroe, Elvis Presley, and The Beatles were taking the spotlight. Japan was right in the middle of the Showa period, enjoying a rapid economic growth. During that time, shopping districts that were rooted in the local community prospered with the economic growth and were bustling with people, but they have been declining in recent years due to the increase in the number of other commercial establishments such as large shopping malls. Showa no Machi(meaning "Showa Town") was created to bring back the liveliness of the Showa period to a declining shopping district in Bungotakada.
A penny candy shop, a hardware shop, traditional Japanese clothing shops, etc.—the district attracts so many tourists, as the townscape with many old-fashioned specialty shops is a rare sight to see in the modern-day Japan. Not only are there many shops where you can enjoy different foods such as croquettes and ice candies, but you can also enjoy taking pictures dressed in a retro outfit at a rental clothing section.
A must-visit spot is the facility called "Showa Roman Gura," which used to be a merchant's storehouse that had been left untouched. It received a renovation and is now a landmark of Showa no Machi. At the facility, houses and a school have been recreated in the old Showa style, so you can experience the daily life of that time. There is also a section where retro toys, such as stilts and kendamas, as well as penny candies and posters from the good old days are displayed.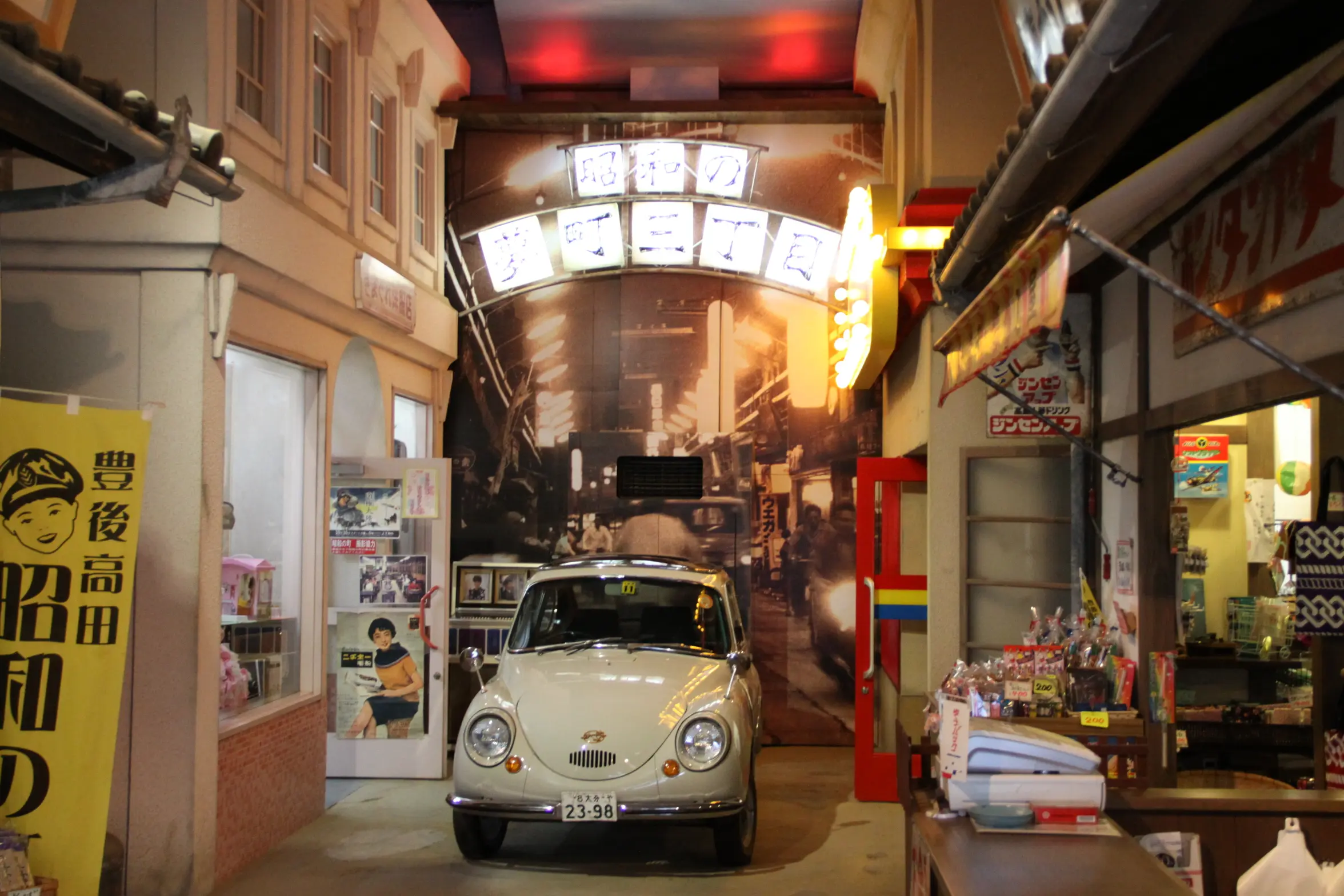 Showa Roman Gura consists of three zones: a house zone featuring authentic recreation of houses, a classroom zone featuring wooden desks, and a shop zone.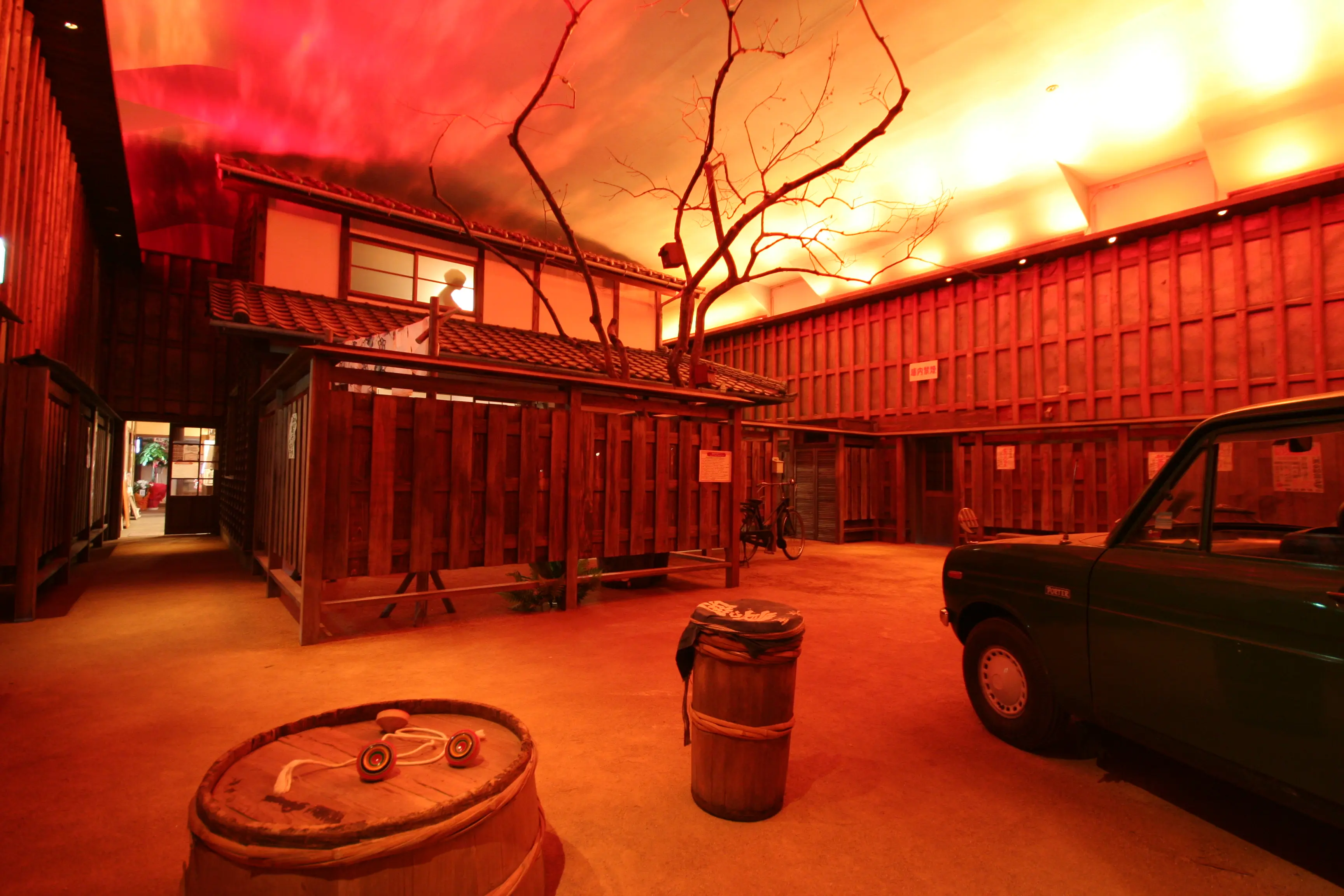 "Yume Machi 3-chome Kan" in Showa Roman Gura during sunset. Here you can experience the daily life of that time.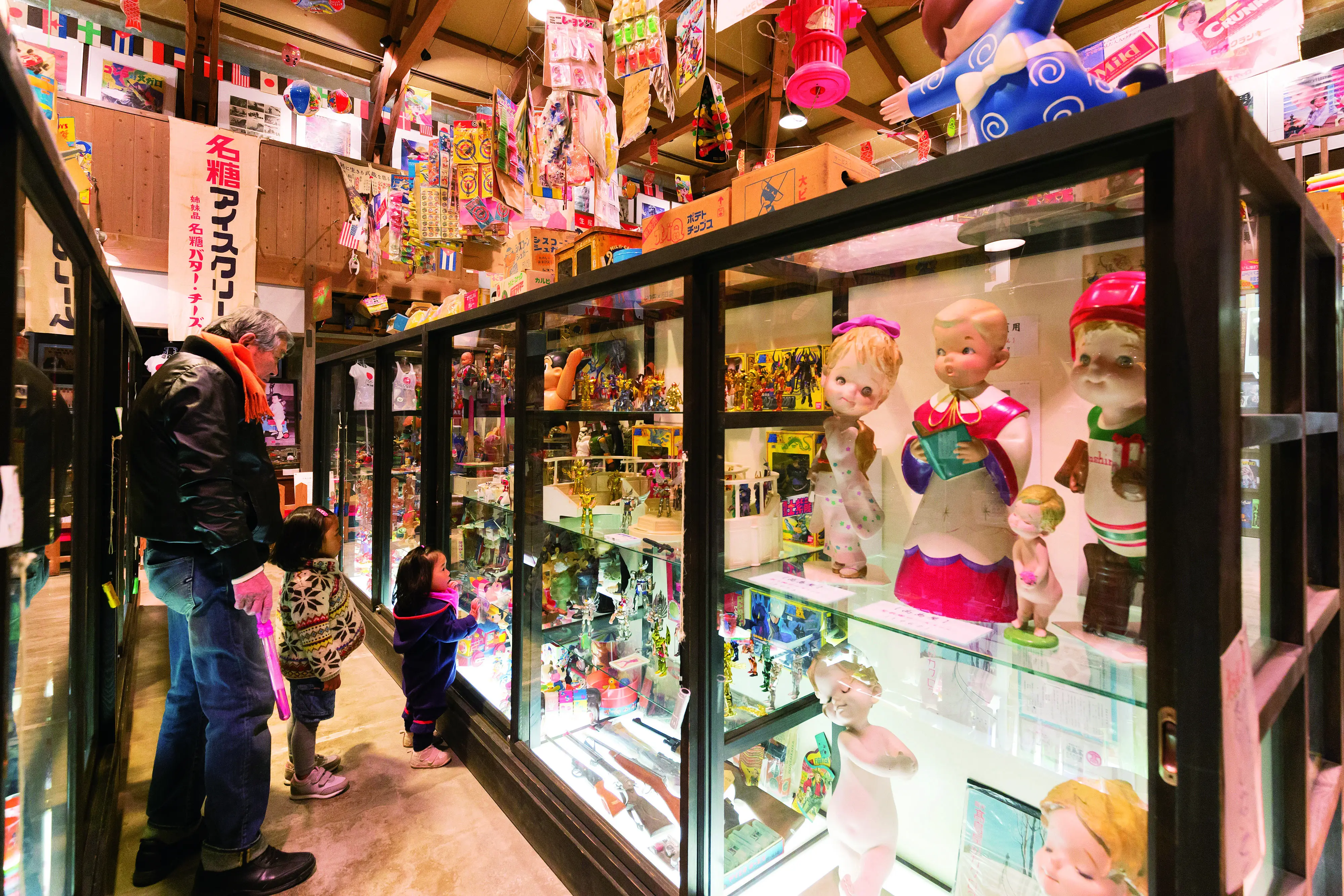 "Dagashiya-no-Yume Museum" in Showa Roman Gura. Over 60,000 items, including penny candies, toys, and posters, are displayed.
At the square, retro cars and an old "bonnet bus" are displayed. You can freely get on the bus and enjoy the atmosphere of that time. Also, on Sundays and some Saturdays and holidays, there is a bonnet bus tour that runs several times a day free of charge. It drives around the Showa no Machi shopping district and along the nearby river for about 15 minutes, so you should definitely try it!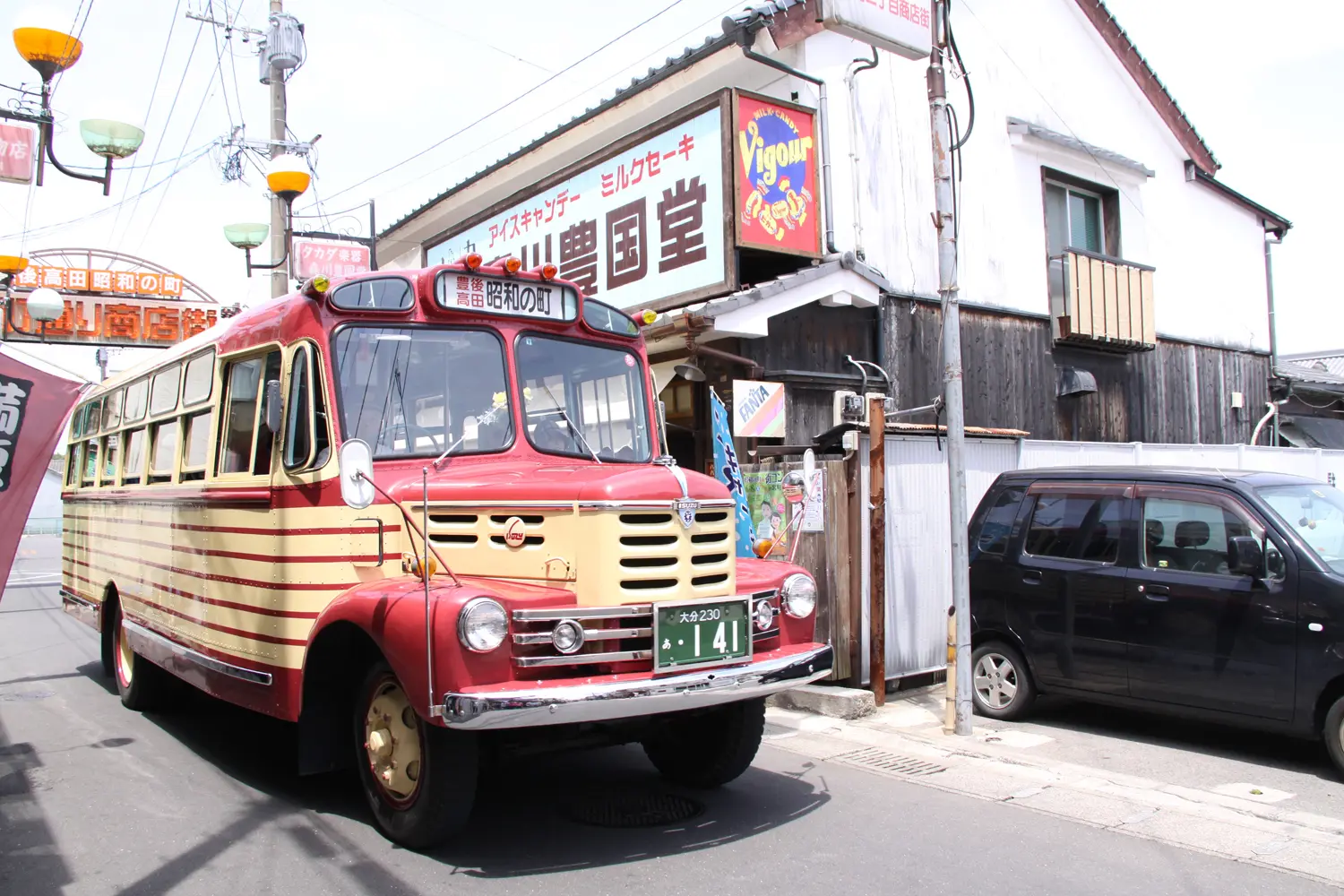 A "bonnet bus" that was in service during the 30s of the Showa period. Get on and experience the atmosphere of that time.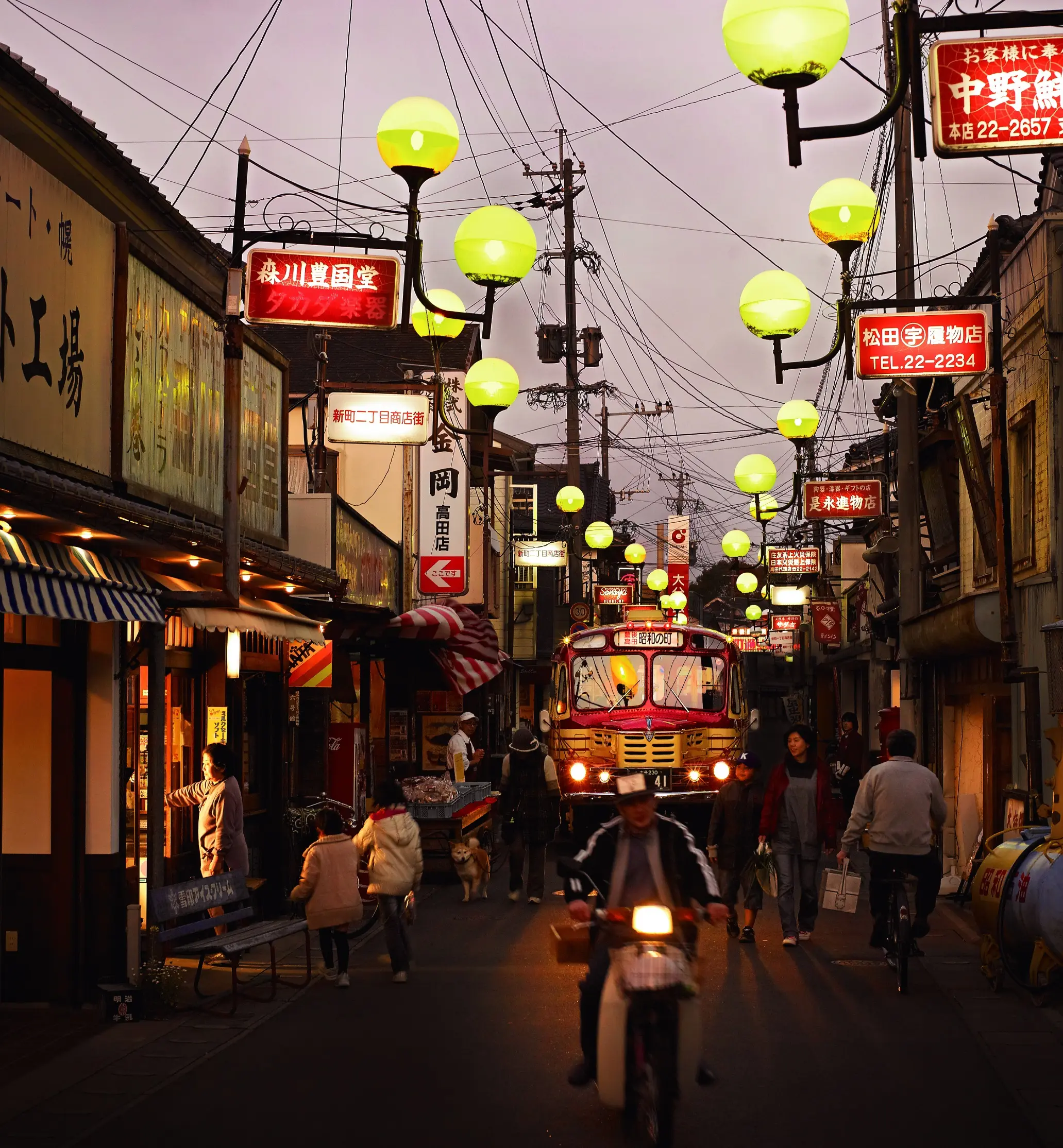 The night view of Showa no Machi that makes you feel as if you were in the 30s of the Showa period. It feels even more nostalgic when the streetlights are turned on.
To get to Showa no Machi, it takes about one hour by bus from Oita Airport. If you are planning to visit hot springs in Oita, it is highly recommended that you include a visit to Bungotakada in your plan. Let's travel back in time in this town and experience the good old times of Showa-period Japan, thinking of the people of that time. (Information as of June 2023)