Sumidagawa Fireworks Festival in Tokyo: Let's go enjoy summer fireworks in Japan!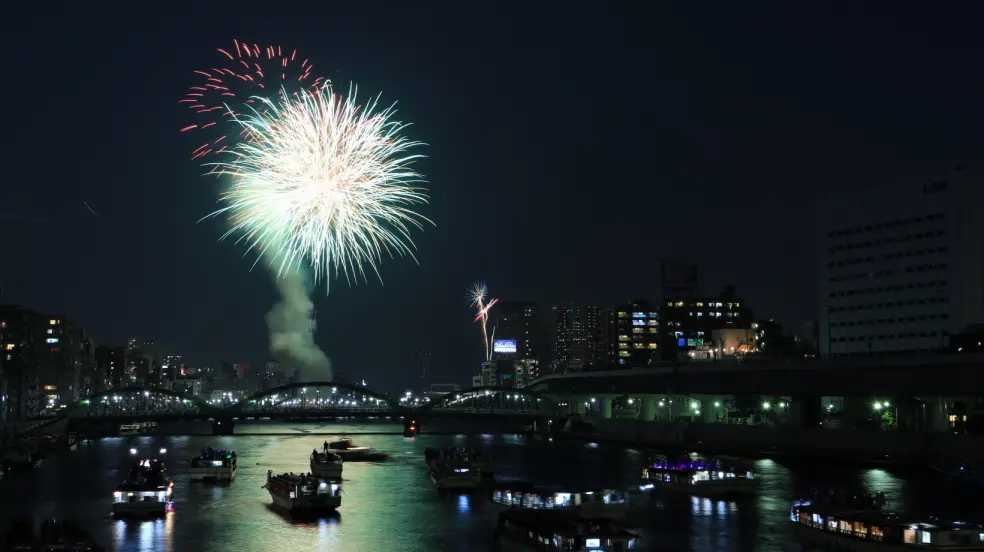 If you are coming to Japan during summer, why not go to one of the fireworks festivals held throughout the country? In this article, we are introducing the famous Sumidagawa Fireworks Festival and Japan's unique ways of enjoying fireworks!
Sumida River Fireworks Festival is held annually on the last Saturday of July in Tokyo's Asakusa area. Originated as an event called "Ryogoku no Kawabiraki," it is Japan's oldest fireworks festival. During the event, a whopping 20,000 fireworks are launched, attracting nearly one million spectators every year.
When you are going to Sumida River Fireworks Festival, remember that fireworks are launched from two different venues. At Venue 1, a competition among Japan's top-level pyrotechnicians is held, where you can watch fireworks that the technicians create with their mastery of the craft. It is recommended for those who want to see the latest fireworks and highly-artistic fireworks. Here, you can also see 1,000 fireworks that are launched consecutively as the opener for the event.
Venue 2 features gorgeous and dynamic ones including creative fireworks as well as ones launched using a continuous launching method called "Star Mine." Besides, Venue 2 launches 1,000 more fireworks than Venue 1.
It's always nice to plan ahead where you are going to watch the beautiful fireworks from. Road traffic will be limited, and the streets will be vehicle-free, making it easier for the spectators to walk around and enjoy the fireworks from different angles. Edo-dori Avenue near Venue 2 is a popular viewing spot where you can watch the spectacular fireworks up close from the vehicle-free street. If you would like to watch the fireworks of Venue 1, we recommend Shirahige Bridge, which is located about 300 meters upstream of the venue. From there, you can enjoy a picturesque view of Tokyo Skytree and fireworks together. Another recommended location is Mito-kaido Road from which you can watch fireworks of both Venue 1 and 2. There will also be many different food stalls along Edo-dori Avenue and Mito-kaido Road, so you can enjoy the wonderful festive mood of Sumida River Fireworks Festival too! It would also be a unique and beautiful experience to watch fireworks from one of the Yakatabune boats floating on Sumida River. You can also watch them from Tokyo Skytree's observation deck. If you want to avoid crowds, we also recommend that you watch fireworks from a high-rise building or your hotel room away from the venues.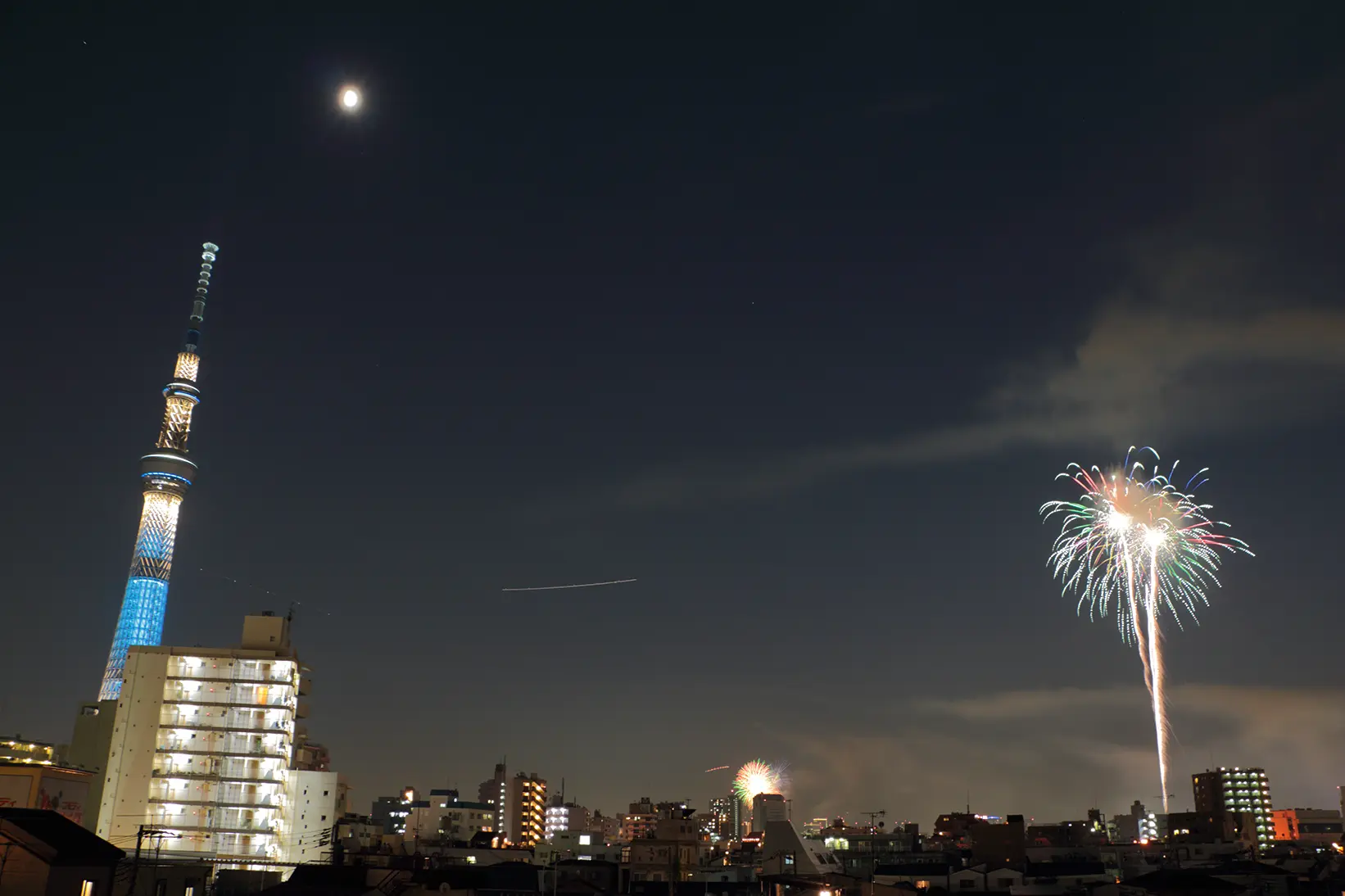 A firework at Sumida River Fireworks Festival. Tokyo Skytree on the left specially extends its opening hours for spectators.
Now, we would like to introduce three ways for enjoying the beautiful fireworks of Sumida River Fireworks Festival in a more Japanese manner! First thing you need is a yukata. As you may know, summer in Japan is hot and humid. Wear a stylish yukata to look and feel cool. Make sure to do research on the shops near the festival venues where you can rent a yukata. The next one is an integral part of Japanese festivals—food stalls! Many food stalls line up not only along Edo-dori Avenue and Mito-kaido Road mentioned earlier, but also around the venues. Japanese food stalls are unique, and they offer a wide range of foods such as Takoyaki, butter potatoes, stir-fried noodles, chocolate bananas, candy apples, and shaved ice. Make sure to try the tasty foods of Japanese food stalls that you don't normally see. Last but not least, let's say "tamayaaa!" and "kagiyaaa!" out loud when fireworks are set off. These phrases were derived from the trade names of famous pyrotechnicians of the Edo period. This custom began from Sumida River Fireworks Festival, then spread throughout the nation. Shout these words and enjoy summer in Japan to the fullest.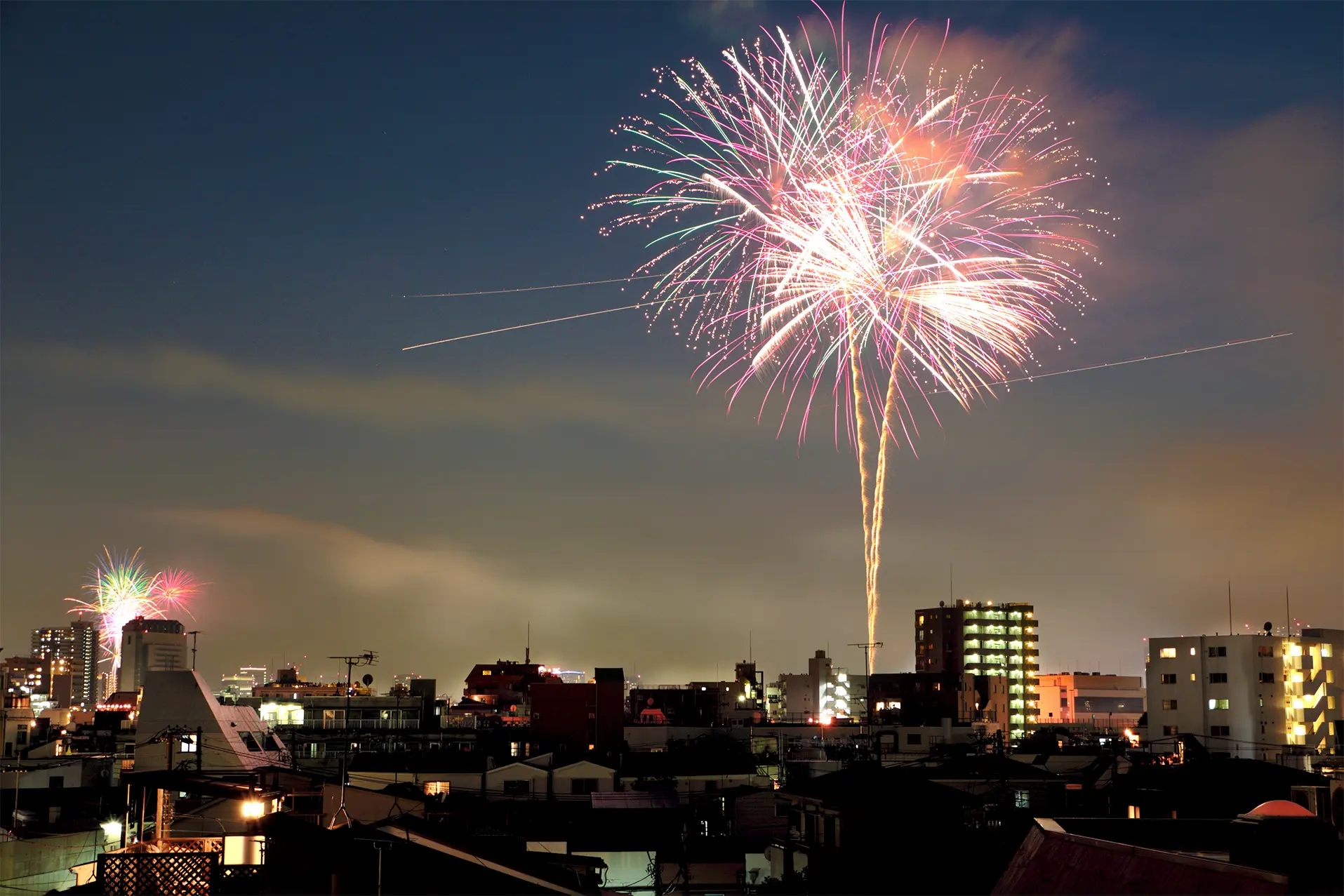 Fireworks shot into the night sky are a summer tradition in Japan. It is one of the things that we would definitely like you to experience if you are coming to Japan during summer.
Fireworks beautifully adorn the night of summer in Japan. Besides Sumida River Fireworks Festival introduced here, there are so many other fireworks festivals across Japan. If you are coming to Japan during summer, check to see if there is any fireworks festival in or around the area you are visiting. Make necessary preparations and make the most of your fireworks festival experience! Sumida River Fireworks Festival official website: https://www.sumidagawa-hanabi.com/ (Information as of July 2023)