Manekineko—cute Japanese figurines believed to bring luck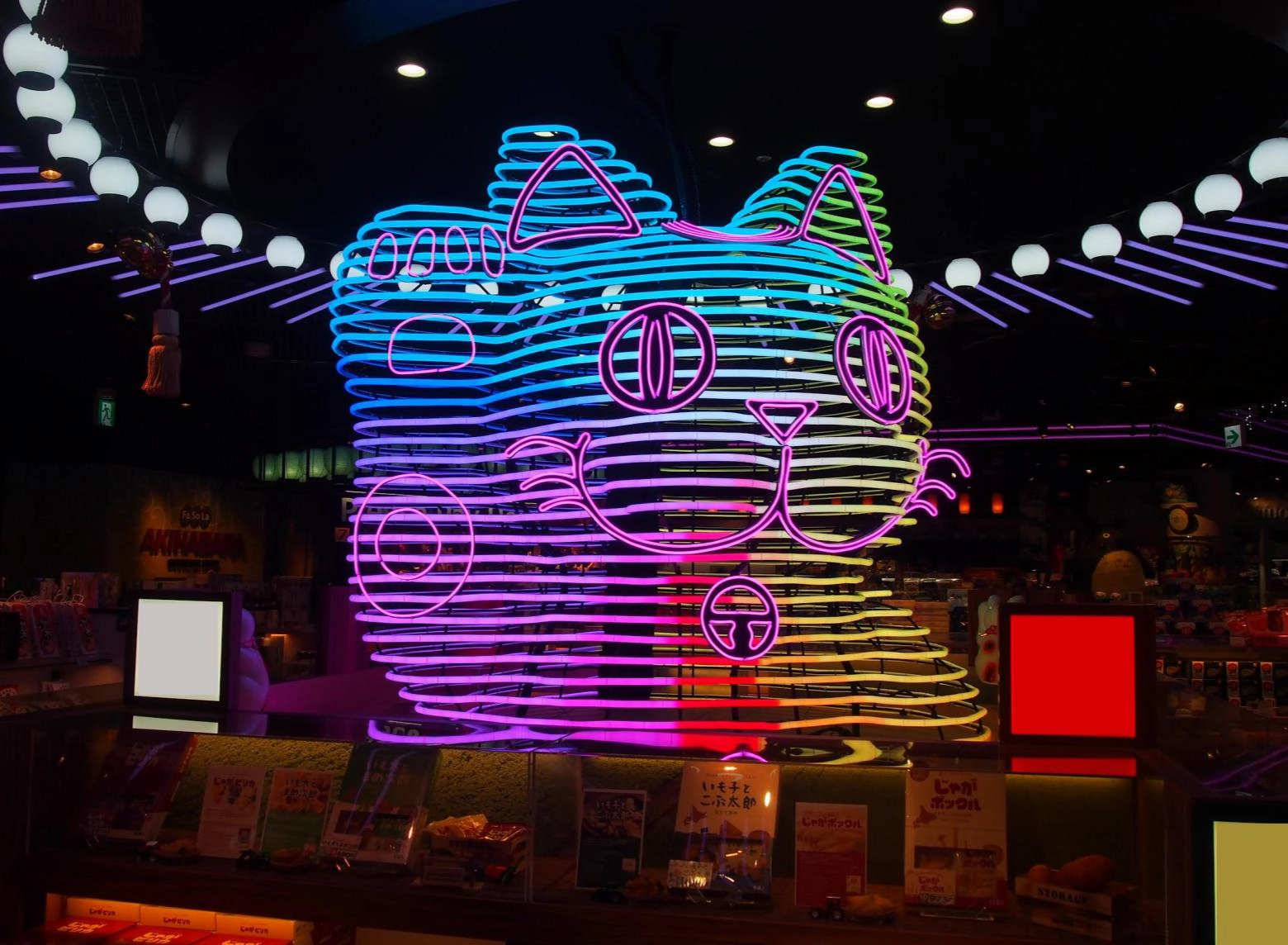 Manekineko (meaning "beckoning cat") refers to cat figurines that are believed to bring you many different connections. The more manekineko you see, the more happiness comes to you (hopefully).
The charming feature of manekineko is how they are raising their paw as if beckoning someone. Sometimes translated as "lucky cats," manekineko is known as a Japanese good luck charm that has been cherished since old times.
So, why are manekineko raising their paw as if beckoning someone? When you look closely, each cat is raising its paw differently, and the meaning and the types of good luck differ. In general, ones with their right paw raised bring good luck for money. Ones with their left paw raised are beckoning people, so they are placed in front of shops in hope of successful business. Ones with their both paws raised expel evil. Also, it is believed that the higher their paws are raised, the more luck they bring. In this article, we would like to introduce four unique manekineko in Japan.
Gotokuji Temple in Setagaya City, Tokyo is said to be the birthplace of manekineko. Once upon a time, a feudal lord was beckoned by a cat when he was walking by a temple, so he decided to stop by. While he was at the temple, a thunderstorm began. Moved by the fact that he didn't get wet thanks to the cat, he provided assistance to the temple. Gotokuji Temple called the cat "Manekineko," and Shofuku-den was built to enshrine the cat. The view of countless manekineko figurines placed throughout the precinct is simply breathtaking. Definitely go check it out.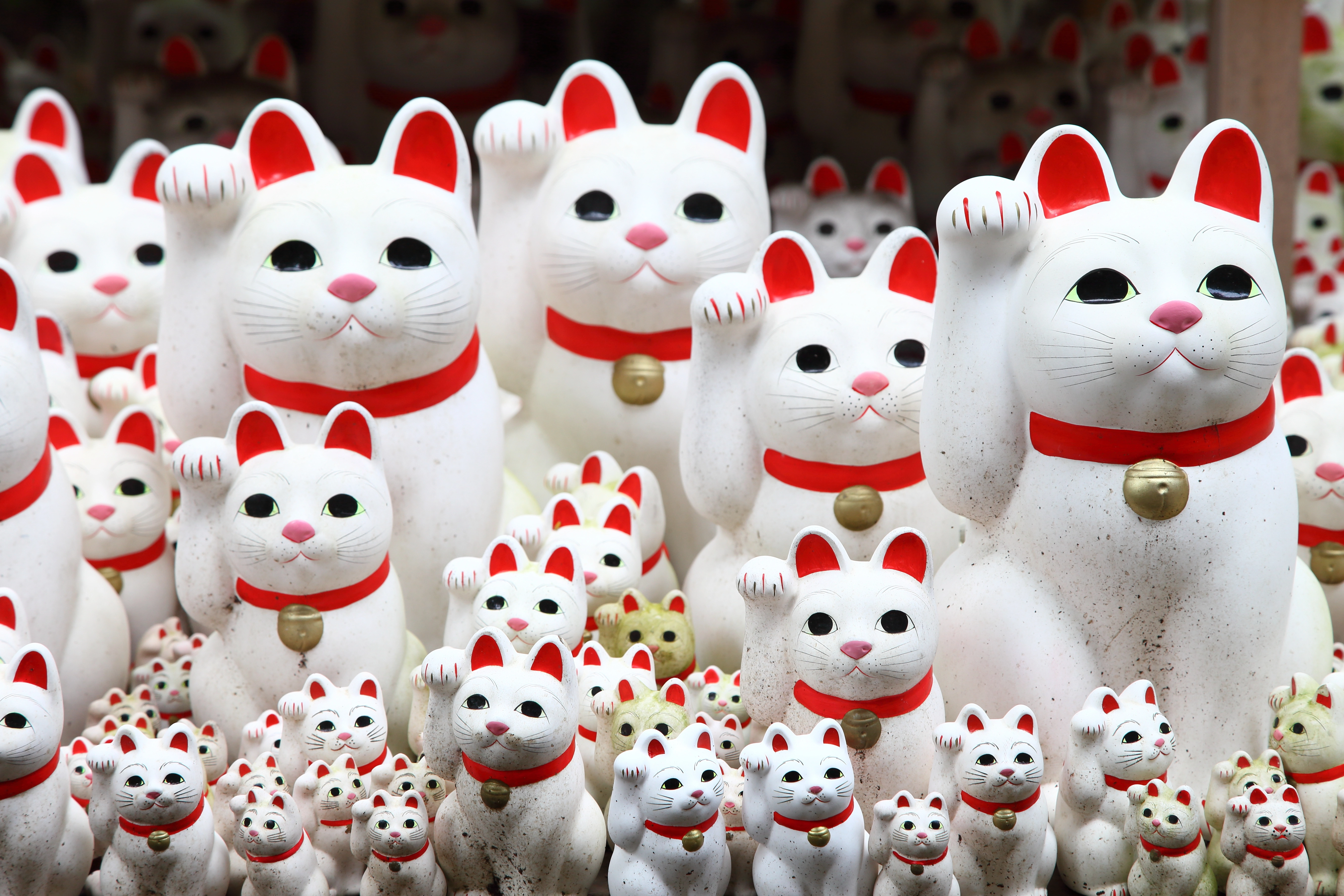 There are also manekineko that have evolved in a modern way as works of art. The "NEO MANEKINEKO" series created by ceramist Takahiro Koga, who advocates "anti wabi-sabi," features studs that Koga uses as a symbol of power and rebellious mentality, expressing the divine power of manekineko. These manekineko show Koga's new, modern interpretation of manekineko. Koga's manekineko are available for purchase at B-OWND Gallery in Hankyu Men's Tokyo department store in Chiyoda City, Tokyo.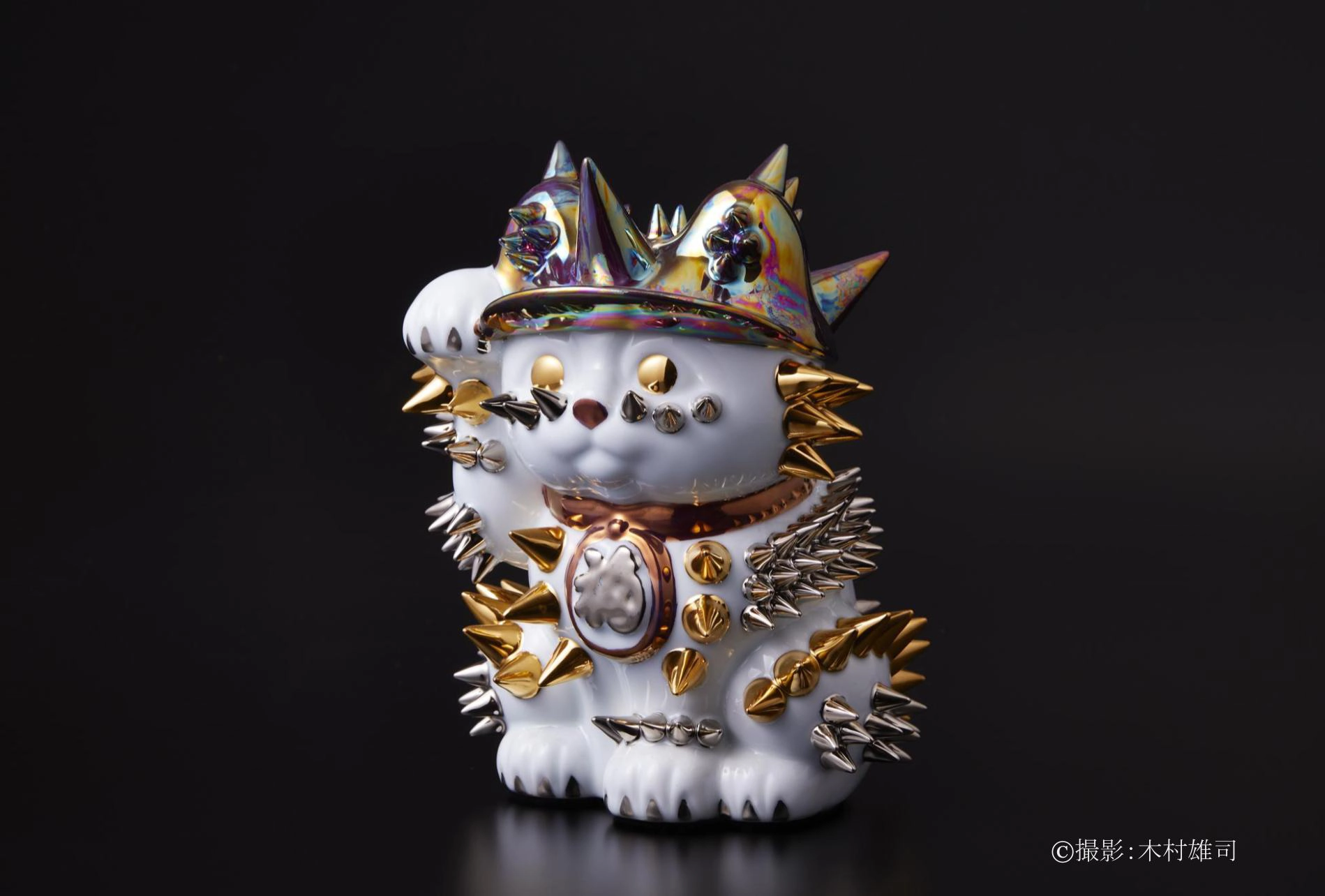 "NEO MANEKINEKO-petit-" by Takahiro Koga, which embellished with studs.
We would also like to highlight Kenichi Nakaya, an artist who restructures Japanese folk crafts by employing a "glitch effect." His "Effect Manekineko" figurine series features manekineko with a distorted part as if they had a digital malfunction, transforming traditional manekineko into unique pieces of art using the latest technology.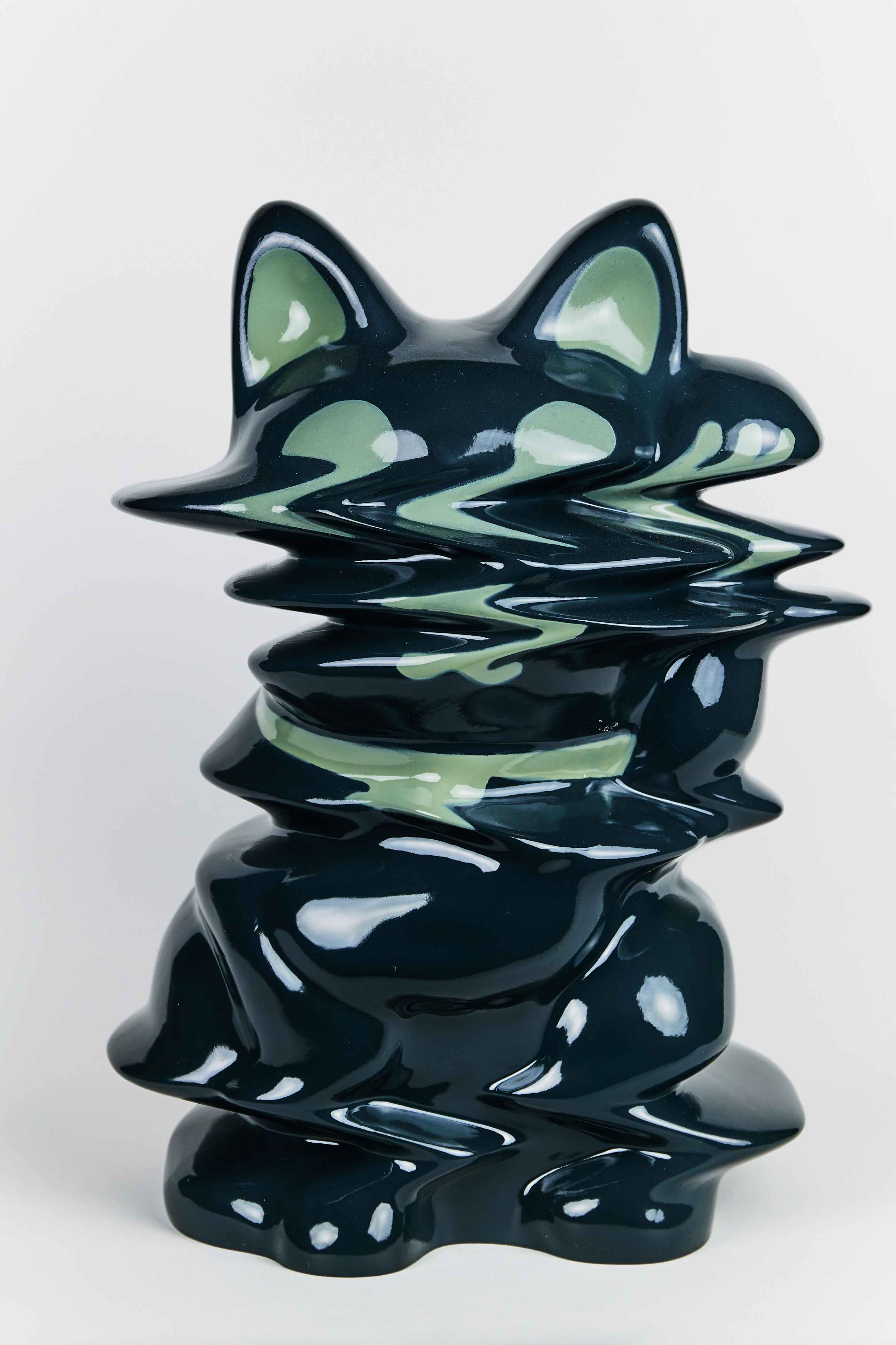 Kenichi Nakaya is scheduled to hold a solo exhibition in Nihonbashi, Tokyo, from October 11 to 17. Manekineko will also be on sale.
And last but not least, we would like to introduce "Neon Manekineko" of Narita Airport. The manekineko was installed in Fa-So-La AKIHABARA, a souvenir shop in Narita Airport Terminal 1, in July this year. It has already been gaining so much attention as a new addition to the attractions at the airport. Before departing Japan, definitely stop by Fa-So-La AKIHABARA to see the manekineko, and of course to get some souvenirs.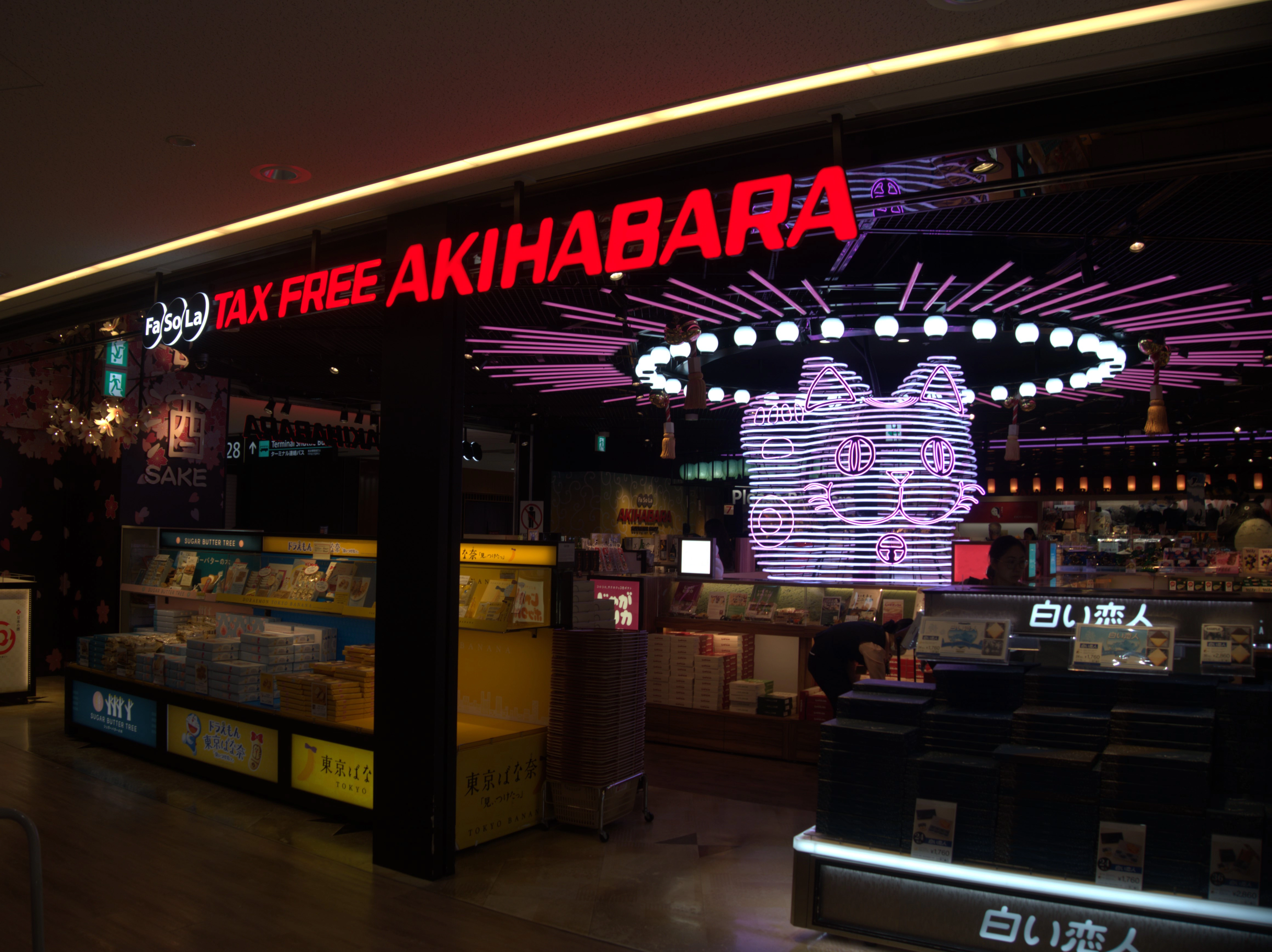 A new manekineko objet d'art at Fa-So-La AKIHABARA.
(Information as of August 2023)