Not just the vermillion torii gate! Other things worth seeing at Fushimi Inari in Kyoto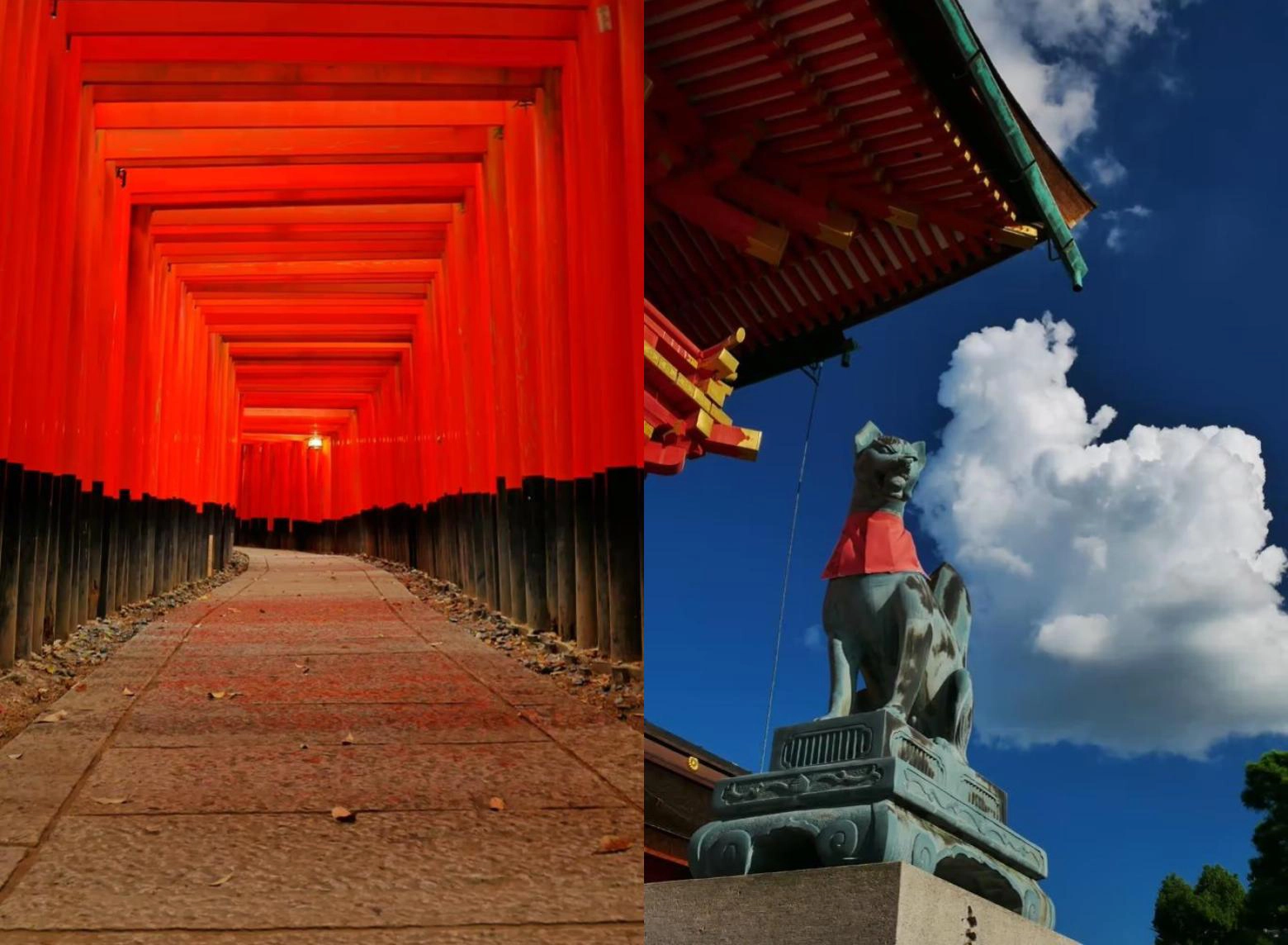 Fushimi Inari Taisha is one of the most famous tourist destinations of Kyoto. The view of about 10,000 vermillion torii gates is of course amazing, but it would be also interesting to look at the fox statues sitting here and there on the premises of the shrine.
Fushimi Inari Taisha (hereinafter "Fushimi Inari") in Kyoto is a popular tourist destination with its "Senbon Torii." It is said that there are over 30,000 "Inari" shrines throughout Japan, and they are a type of shrine with which Japanese people are most familiar and are affectionately called "Oinari-san." Fushimi Inari is the head shrine of all Oinari-san.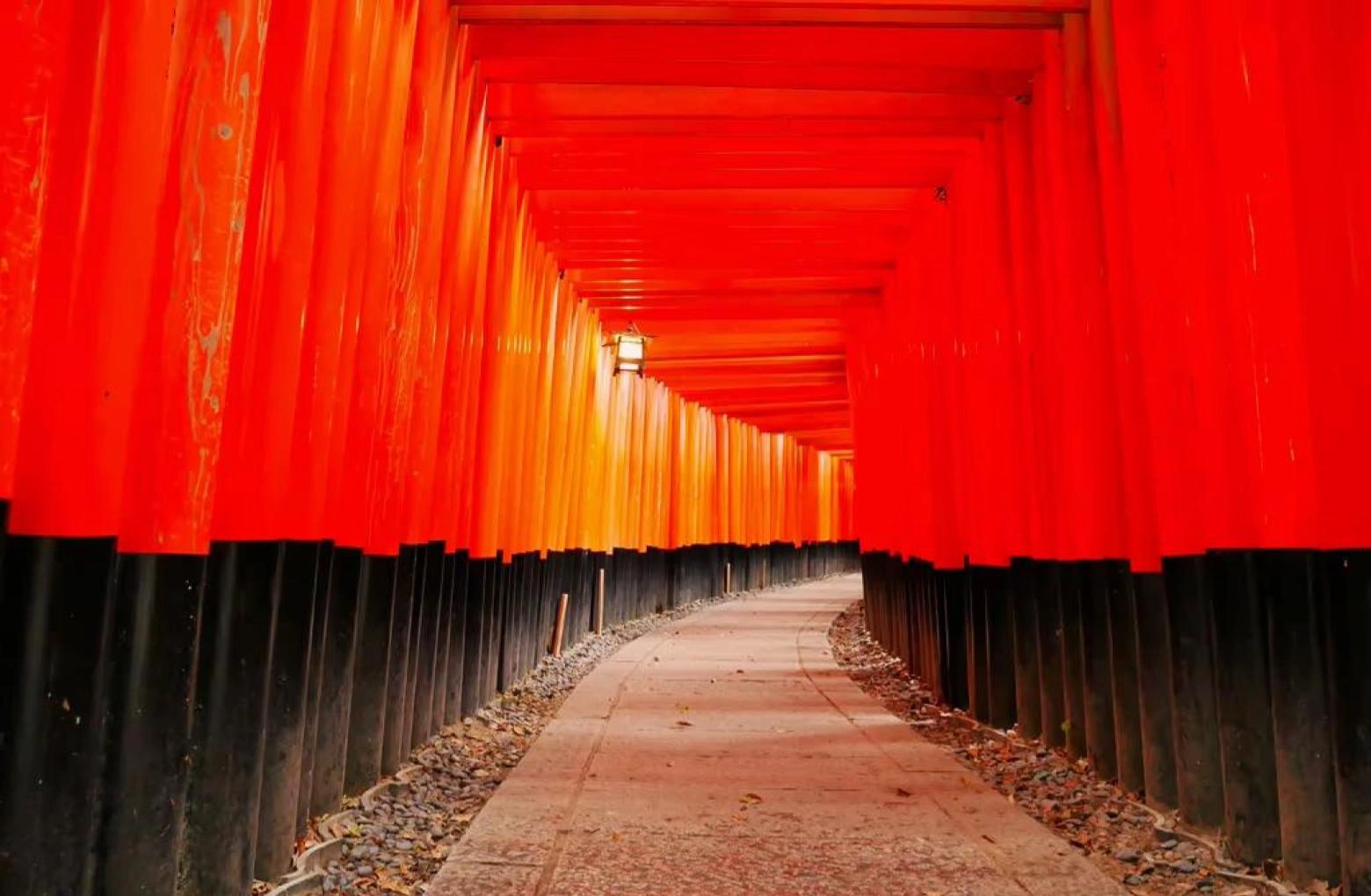 Senbon Torii at Fushimi Inari attracts people from around the world.
The beautiful view of countless vermillion torii gates lined up along the path attracts about 10 million tourists every year, but did you know that the shrine also has fox statues sitting everywhere on the premises? Typically, shrines place guardian lion-dog statues called "komainu," but Fushimi Inari has fox statues called "komagitsune" instead. These fox statues are one of the must-see things of Fushimi Inari, so don't forget to check them out when you visit there.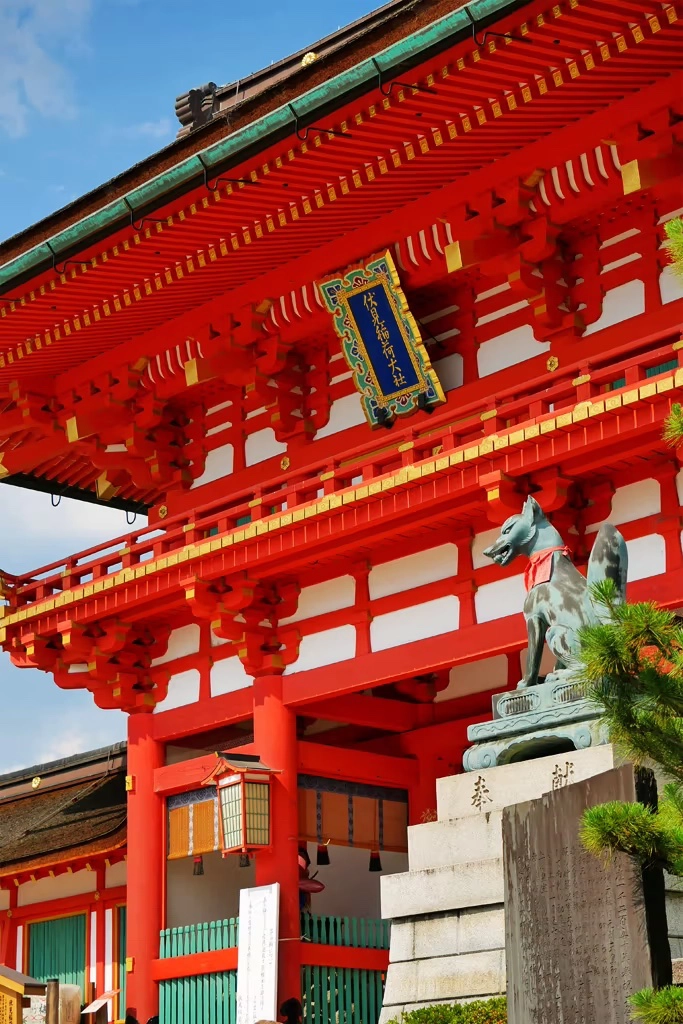 Fushimi Inari's front gate called "Romon," with komagitsune statues sitting on both sides.
So why are there many fox statues enshrined here? That's because foxes are the messengers of "Inari no Okamisama" (Inari god) enshrined at Fushimi Inari. However, these foxes are different from wild foxes, and they are invisible to mortal eyes just like the Inari god because the foxes are the god's messengers. These foxes are called and worshiped as "Byakko-san" (white fox).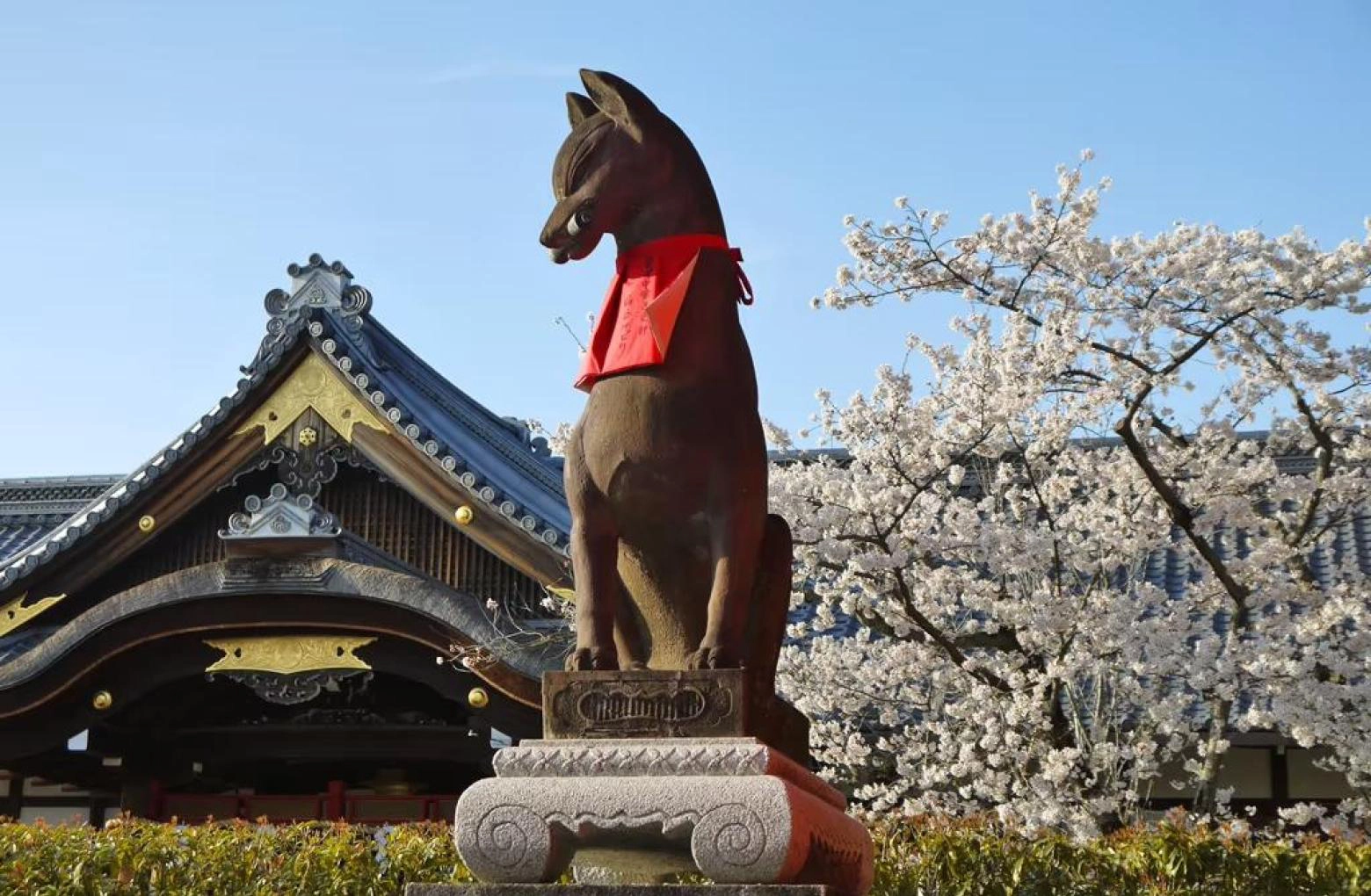 The foxes play an important role as messengers of the god of good harvests.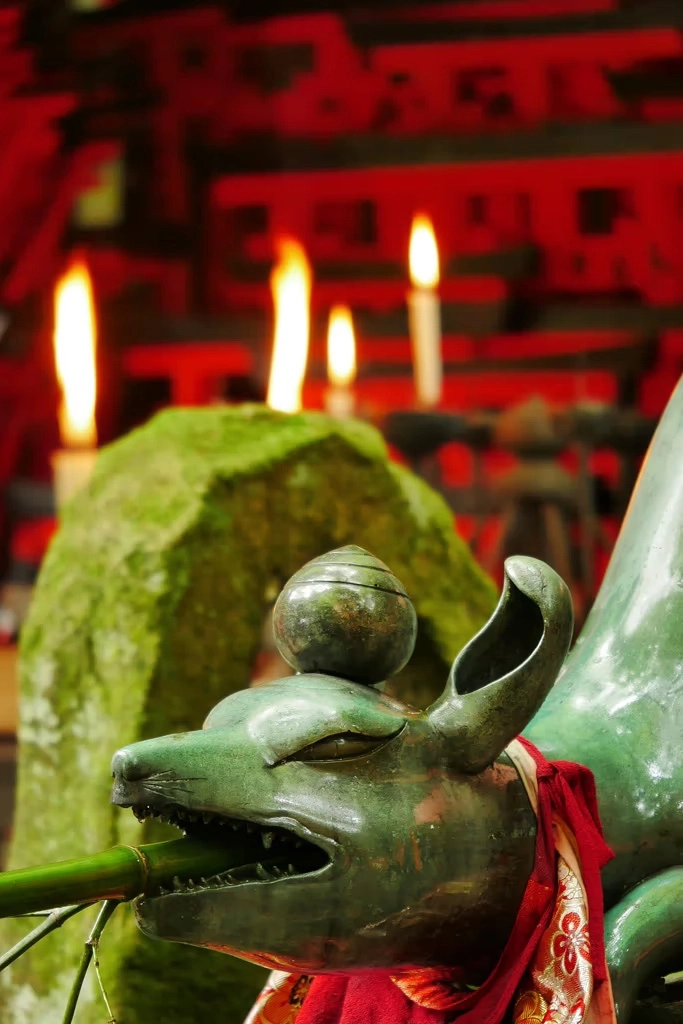 This one is holding a piece of bamboo that functions as a water outlet. It is sitting at Ganrikisha—a shrine said to bring blessings such as "improvement of eye disease symptoms" and "acquisition of foresight."
When you look at these foxes closely, some of them are holding something in their mouths. Those things vary from a rice stalk, a scroll, or a ball, to a key. Each one represents a certain thing: a rice stalk represents good harvests, a scroll represents wisdom, a ball represents the Inari god's miraculous virtues, and a key represents the wish to attain the virtues.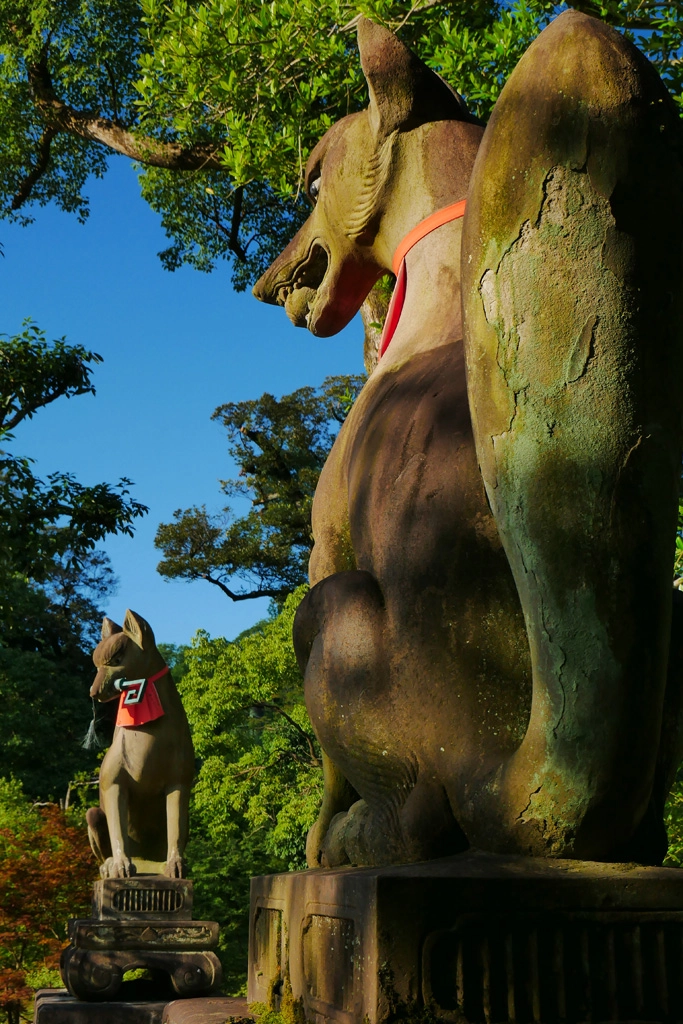 One fox is holding a ball, and the other one is holding a key in its mouth.
In addition to these komagitsune, you can find many other things that feature foxes, such as architectural decorations, fortune-telling papers, and "ema" (a wooden plaque on which people write their wishes on). Moreover, many restaurants around Fushimi Inari serve dishes, such as Inari sushi and Kitsune udon, that are cooked with deep-fried tofu because deep-fried tofu is believed to be a favorite food of foxes ("kitsune" in Japanese). You should also check out "Kitsune Senbei" crackers that are in the shape of a fox face. Made with white miso and sesame seeds, they give off a nice aroma and savor as you chew on them. It is a perfect souvenir for sharing the Inari god's blessings. Fushimi Inari is only five minutes from Kyoto Station by train. If you get a chance to visit Kyoto, why not go see the god of good harvests and the god's messengers that have been worshiped by Japanese people for centuries.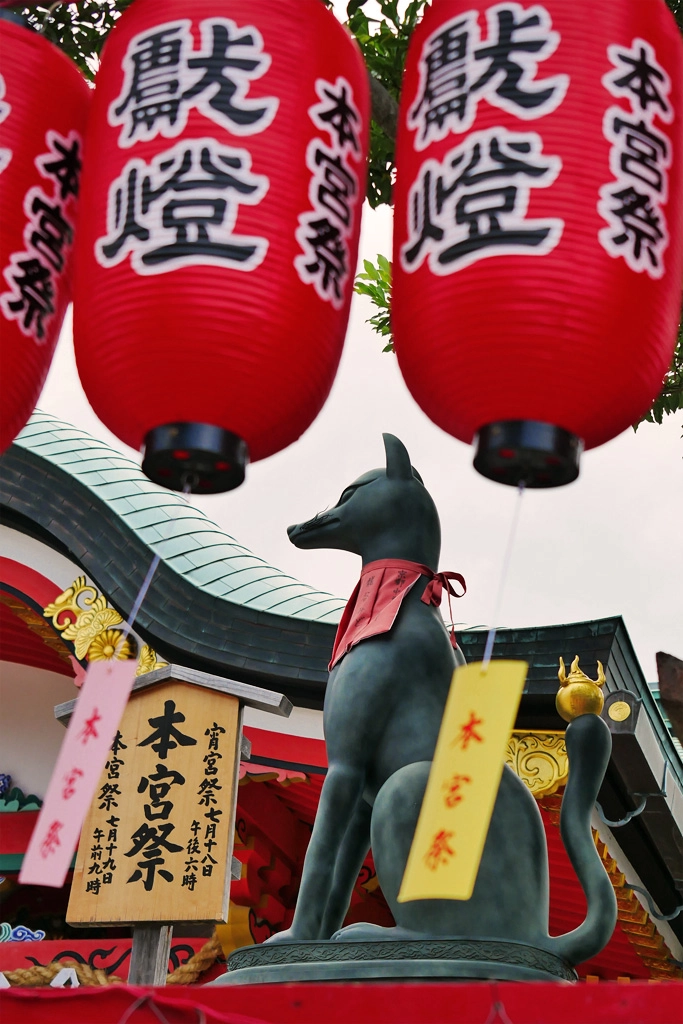 Motomiya Festival held in July attracts many visitors from around Japan. On the day before the festival, different kinds of lanterns are lit up, softly illuminating the paths and the shrine halls of Inariyama.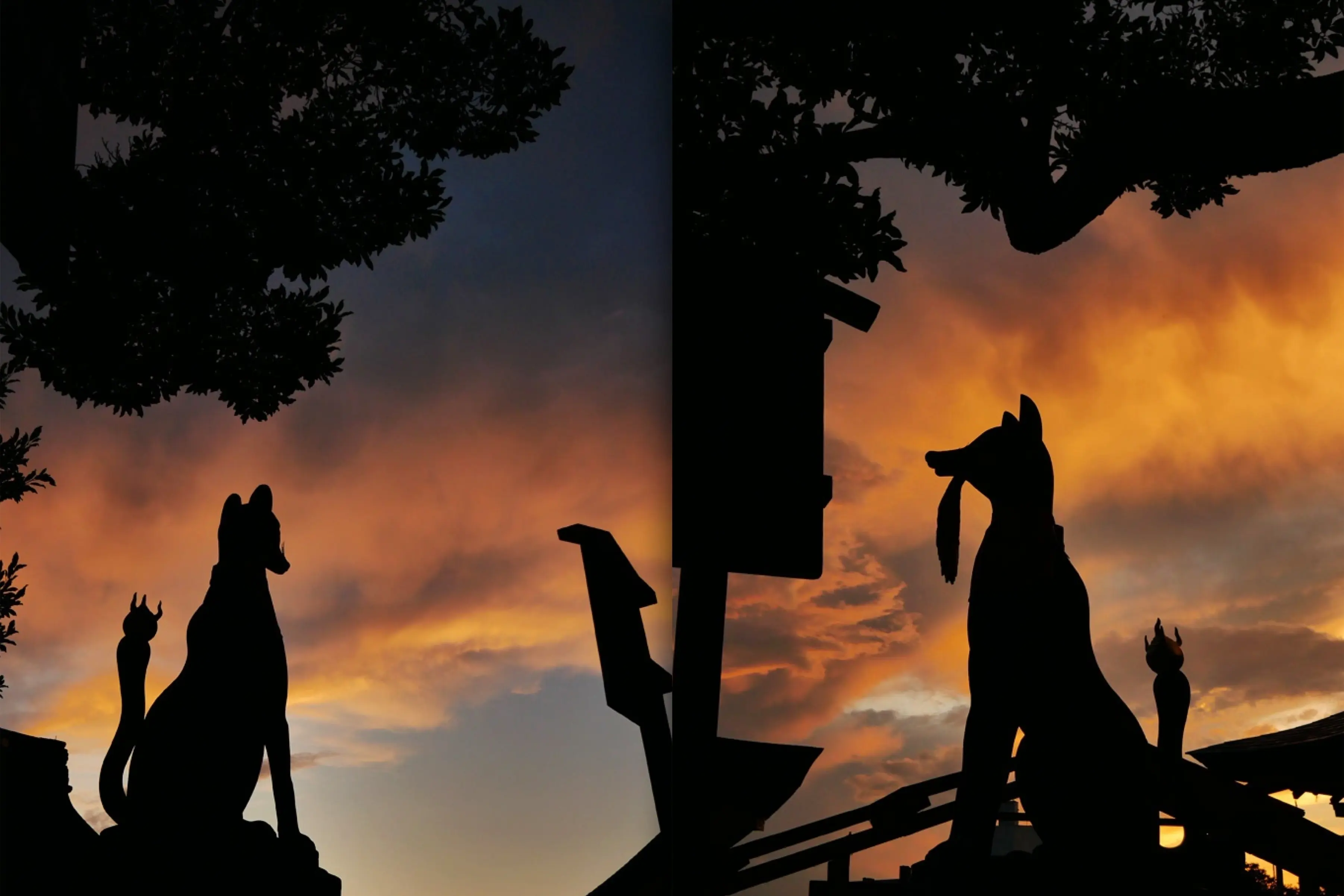 A fox statue appreciating a beautiful sunset.
■DATA Address: 68 Fukakusa Yabunouchi-cho, Fushimi-ku, Kyoto City, Kyoto Official website: http://inari.jp/en/ Instagram: https://instagram.com/fushimiinaritaisha_official (Information as of August 2023)